Looking back on 2010, it was a celebrity-filled year.
In the spring, Kathy Griffin brought her My Life on the D-List reality show to the streets of D.C., staging a "Don't Ask, Don't Tell" repeal rally with the Human Rights Campaign that some felt garnered needed media attention and others felt blurred the lines between activism and entertainment. Lady Gaga spent much of the year vocally campaigning for repeal of DADT, including a rally in October and an entourage of gay and lesbian servicemembers escorting her to the MTV Video Music Awards. (The jury's still out on her infamous "meat dress.")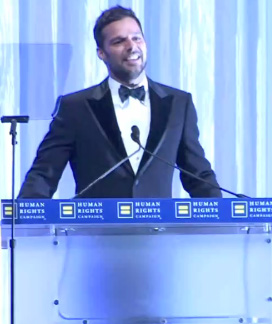 Ricky Martin at the 2010 HRC National Dinner
(Photo by Aram Vartian)
On the coming-out scene, Oprah Winfrey most definitely did not, telling Barbara Walters, "I'm not even kind of a lesbian. And the reason why it irritates me is because somebody must think I'm lying. That's No. 1. No. 2, why would you want to hide it?" Kevin Spacey also declined to come out, going so far as to make the cringe-inducing claim that to even ask about his orientation amounted to the same bullying LGBT teens endure.
Anderson Cooper continued his silence about himself but was admirably vocal about others, eviscerating the hysterical homophobia of former Michigan Assistant Attorney General Andrew Shirvell — he of the anti-gay campaign against and stalking of the openly gay University of Michigan student body president — in an interview as fascinating as it was bizarre.
But two high-profile coming-out stories caught the nation's attention. First, from the heart of Nashville, Chely Wright became the first openly gay — and still active — country music star. She also made the leap from the stage of the Grand Old Opry to the stage of Capital Pride, where she headlined the 2010 festival. She told Metro Weekly that while rumors of her orientation had circulated among Nashville's country music scene for years, that wasn't the reason she came out.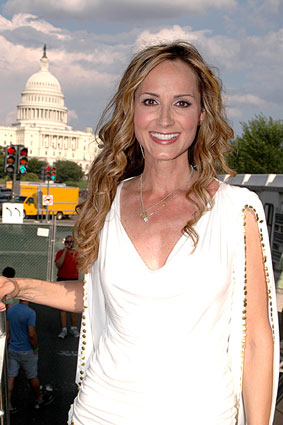 "I came out for the people who certainly never, ever would have heard this," she said. "Rumors never make it on the airwaves of the Lexington, Ky., radio station. I did this because I don't want to be a rumor. I wanted to make sure that this rumor became a fact. I don't want to be a whisper anymore."
On a different section of the pop music spectrum was Ricky Martin, whose announcement that, yes, he's gay, was met with some world-weary eye-rolling by many gay white Americans who took the news as confirmation of something they'd known forever. But Martin's coming out was a worldwide sensation and a symbol of hope and progress for many LGBT Latino communities.
Martin also charmed D.C. with a surprise appearance at the HRC National Dinner, alongside other celebrities including Pink and Bette Midler.
"It took me a while, but tonight I am here," he told the cheering, black-tie crowd. "And I just want to say that I want to add my voice to yours. I am so happy to be a part of this community."