When I told friends I was going to be visiting Curaçao for a few days, it never failed that I received one of two responses.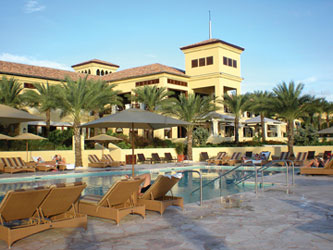 Among the small number familiar with Curaçao, there was immediate excitement and expressions of congratulations, followed by a long list of "must see" recommendations. And, in a few cases, there was a discernable spot of envy.
On the flip side, most people responded with, "Where is that?"
So, for those unaware of Curaçao, I gave a quick geography lesson: Curaçao is an island in the southwestern Caribbean, approximately 35 miles north of Venezuela and a two and a half hour flight from Miami. It has a consistently warm, sunny climate – with temperatures in the 80s nearly year round – and is outside the traditional hurricane belt.
I also received a number of follow-up questions about whether or not I had any concerns for my safety – an appropriate question given such things as protests against gay cruise ships seeking to dock in the Bahamas and Cayman Islands, rabid homophobia and violence against gays in Jamaica and even the savage, high-profile murder last year of a gay teen in Puerto Rico. It gave me an opportunity to continue my Curaçao 101 lesson.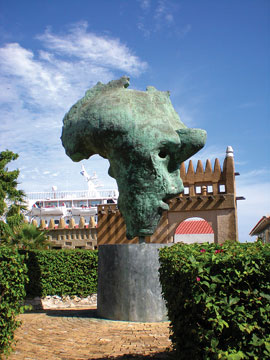 Kura Hulanda Museum
I explained that despite being separated by thousands of miles of Atlantic Ocean, Curaçao was actually part of the Netherlands for nearly the past 400 years, giving the island much greater ties to its more progressive European roots than its Caribbean neighbors. It was only this past October that Curaçao became an independent country.
Due to its long affiliation with the Netherlands, the Dutch and other European tourists have come to the island for generations. In addition, residents of Curaçao all have Dutch passports and frequently travel to the Netherlands for work, school and vacation. This open exchange has certainly contributed to Curaçao's acceptance of gays.
The Netherlands was the first country to legalize marriage equality, and although Curaçao has not taken that step, it appears to have contributed to the island's openness.
Another sign of Curaçao's acceptance of gays was the decision by the Curaçao Tourist Board (CTB), a nonprofit foundation subsidized by the island's government, to undertake a proactive campaign to attract gay travelers to the country as part of its assignment to develop sustainable tourism.
As early as 2004, the CTB launched gaycuracao.com to specifically educate gay tourists on the island's many offerings from its beaches and spectacular diving, colorful architecture, rich history, multicultural diversity, attractions, art and cuisine. The site also includes information on gay-friendly nightlife.
Around the same time, the local community started "Get Wet Weekend," a mix of a gay-pride celebration and circuit party. The effort was so successful it's become an annual fall event.
Major champions of the effort to attract gay tourists, especially those traveling from the U.S., have been the island's hotels. The new Hyatt Regency Curaçao, where I stayed (and didn't want to leave) has been a member of the International Gay and Lesbian Travel Association (IGLTA) since it opened its doors in April. The luxury hotel is situated on 27 pristine acres between the Caribbean Sea and Spanish Water Bay.
The property includes three restaurants focused on the freshest seafood and farm-to-table ingredients; the 4,500- square-foot Atabei Spa; a full-service salon; 24-hour fitness center; three pools; a private beach; four tennis courts; and an 18-hole Pete Dye championship golf course.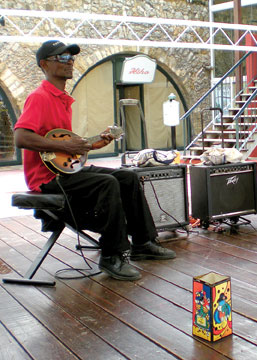 From the Hyatt, I was just a 20-minute drive to Willemstad, the island's main city and capital. It was easy to see why Willemstad is a United Nations Educational, Scientific and Cultural Organization World Heritage Site. There is something magical about the motley colored buildings that line the bay, which divides the city in two sections.
Punda is the original side of the city and the location of many of the island's most historic sites, such as Fort Amsterdam, built in the 1600s and now the island's seat of government, and Synagogue Mikve Israel-Emanuel, which has been in continuous use since 1732 as the oldest synagogue in continuous use in all of the Americas.
Across the stunning Queen Emma pontoon bridge is Otrobanda, which means "the other side." Riffort, Ortobanda's fort, shelters Riffort Village, a shopping and entertainment center that offers panoramic views of Punda and the sea. I spent an enjoyable afternoon here listening to local musicians perform.
I also had the pleasure of eating keshi yená – literally translated as "stuffed cheese" in the local Papiamento language – for lunch on the terrace of the Gouverneur restaurant. This traditional dish of a thick chicken stew stuffed into a cheese shell and baked into a tasty, gooey treat.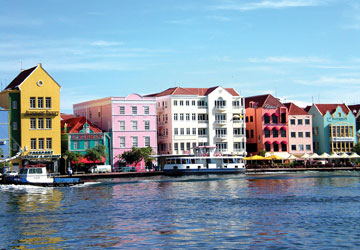 Willemstad
Ortobanda is also home to the Kura Hulanda complex, developed by gay Dutch entrepreneur Jacob Gelt Dekker, consisting of 65 new and restored buildings, including a boutique hotel (also an IGLTA member), spa, conference center and casino.
The Museum Kura Hulanda is dedicated to the tragic history of slavery. The Dutch West India Company made Curaçao a center for the Atlantic slave trade for much of its early history. Curaçao's link to the slave trade helps explain part of the island's rich diversity – African, Dutch, Jewish, Spanish, South American and Caribbean – and another clue to its acceptance of suppressed populations such as gays.
My visit only allowed me the opportunity to explore a small portion of all that Curaçao has to offer, but it was enough to understand the source of my friends' envy and to leave me with a strong desire to return soon.