For updates to this story, visit Poliglot, Metro Weekly's LGBT political blog.
On Wednesday morning, Dec. 8, Senate Majority Leader Harry Reid (R-Nev.) confirmed what had been reported as a possibility the night before: A vote on the National Defense Authorization Act, which includes a provision aimed at repealing "Don't Ask, Don't Tell," was likely Wednesday evening.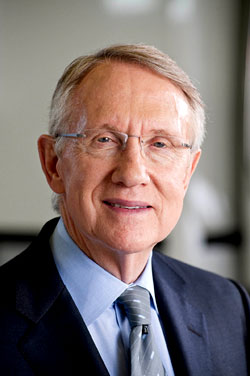 Senate Majority Leader Harry Reid
Reid's announcement was answered with an immediate warning. Servicemembers United's Alex Nicholson said Reid must be reasonable with the NDAA amendment process or "he will be intentionally throwing the vote." Other advocates were likewise critical about the role that Reid's actions will play.
Robert Raben, a former Clinton Justice Department official who now runs a lobbying firm, was incredulous. He told Metro Weekly, "In what fictional universe is moving forward, as those of us who want to lift the ban have insisted upon, to be greeted with anything but, 'At last, thank you'?"
Because the vote to proceed to debating the NDAA failed in September, Reid voted against it for procedural purposes so that he later could bring the bill back as a motion to reconsider. He said on Wednesday that he was on the path to doing so by Wednesday night.
On the floor Wednesday, Reid said, "I'm likely going to move to my motion to reconsider on the defense authorization act this evening. Allowing, as I will indicate at that time, time for amendments to that piece of legislation."
Aubrey Sarvis, the executive director of Servicemembers Legal Defense Network, released a statement reading, "Reid is actively reaching out to his Republican colleagues to reach an agreement on how to proceed.
"We also know from Hill sources the President is actively working today's vote with key Republican senators. … Today the Senate has an opportunity to make the nation's defense funding and our service members a higher priority than tax cuts for millionaires."
SU's Nicholson, however, said, "If Sen. Reid is planning to bring up the vote on the defense bill today, we certainly hope that he has confirmed that our Republican votes are ready to proceed based on the tax-cut deal. We have not yet received confirmation on that one way or the other."
It was not clear by Metro Weekly print deadline Wednesday whether Republicans who have expressed support for repeal – Sens. Susan Collins (R-Maine) and Scott Brown (R-Mass.) – will vote for the reconsideration.
The National Journal, however, reported that "several congressional aides" said the bill was "likely to be successfully filibustered by Senate Republicans. GOP moderates have insisted on an open amendment process, which Reid appears unlikely to grant."
Nicholson echoed those concerns, telling Metro Weekly Wednesday, "As of this morning, it is our understanding that [Reid] is still lowballing his offer and presumably hoping that we will just blame 'the Republicans.' If he does not move his offer into the realm of reasonableness, then he will be intentionally throwing the vote when he brings it up."
Raben, however, shot back. "People should spend more time getting us over the finish line, and less questioning the motives of our very few champions," he told Metro Weekly.
In addition to the amendment process, questions remain about whether Republicans will vote to proceed on any legislation other than tax cuts. Despite the White House deal on those cuts, the Senate has not yet voted on the package and all 42 Republicans told Reid they would not proceed on any legislation until the tax-cut issue was resolved.
The action this week comes on the heels of Senate hearings into the Pentagon working group report regarding implementation of DADT repeal.
Adm. Mike Mullen, the chairman of the Joint Chiefs of Staff who in February told the Senate Armed Services Committee that his personal opinion was that "Don't Ask, Don't Tell" should be repealed, on Dec. 2, added to that response, telling the senators, "I did not know it as a fact; now I do. What was then my personal opinion is now my professional view."
Mullen and Defense Secretary Robert Gates were testifying before the committee on the first day of hearings into the Pentagon working group's report on DADT repeal implementation. The co-chairs of the working group, Defense Department general counsel Jeh Johnson and Gen. Carter Ham, testified as well on Thursday.
While attacking the "corrosive" long-term effects of the military's policy banning openly gay and lesbian service, Mullen told the committee, "Repeal of this law … strengthens us. It will better ally those organizational values we claim with our practice."
Johnson made a "plea" to the senators to take legislative action to end DADT this year – a view echoed by Ham, Mullen and Gates throughout the hearing.
The most heated moment of the morning of Dec. 2 came when Sen. John McCain (R-Ariz.), the leading opponent of repeal, questioned Mullen about what he characterized as the report's failure to "ask the question" to servicemembers of whether they want DADT repealed.
"Leadership is soliciting the views of your subordinates," McCain told Mullen, "and thereby you're able to carry out your mission."
Mullen disagreed with McCain's assessment, telling him, "I think the report has spoken to, in great part, their views of whether this can be successfully done or not."
When McCain asked Mullen, "Why wouldn't we just ask the question?" Mullen replied, "I fundamentally, sir, think it's an incredibly bad precedent to ask them about – to essentially vote on a policy."
"It's not voting, sir," McCain retorted. "It's asking their views," stressing – several more times – various iterations of the "asking their views" refrain before Mullen told him, "We've gotten in great part their views as a result of this survey."
The service chiefs – even those who are not supportive of repeal at this time – backed up Mullen's point on Dec. 3. When Sen. James Inhofe (R-Okla.) asked Army chief of staff George Casey if the survey should have asked servicemembers if they thought that DADT should be repealed, he responded, "I don't think so. I don't think the survey should have been a referendum." Marine Corps commandant James Amos concurred with Casey.
Prefacing his remarks as coming from "the lawyer for the Defense Department," Johnson, on Dec. 2, spoke extensively about the current state of the law with regard to DADT – talking about that "uncertainty" experienced because of the Log Cabin Republicans v. United States injunction in October. He said that legislative action was the only way to ensure proper implementation of repeal. "Judicial fiat," he said, will not allow for "orderly and responsible" implementation of repeal.
One of the significant developments on Dec. 2, however, came from Ham, who had not previously given his personal view of repeal. Asked whether he personally supports repeal, he at first paused, then referenced the legal environment, and said, "Personally, I think it is time to move from debate and discussion to … implementation."
On Dec. 3, meanwhile, Amos and Casey countered Ham's views – opposing repeal at this time. Both, however, did acknowledge that the military could implement repeal if passed by Congress.
Amos told the senators that repeal has a "strong potential for disruption at the small unit level." He went on to say that he "[does] not know how distracting" repeal would be, but that he believed there would be an impact.
Later in his opening statement, he said, "Could we implement repeal at this time? The answer is yes. … We are Marines," with the addition that his recommendation was against repeal "at this time."
Calling it "a major cultural and policy change in the middle of a war," Casey, meanwhile, told the senators that repeal will "be more difficult for the Army than the report suggests." Although he said the report "undercuts the basic premise of the law," he recommended holding off on implementing repeal for now.
Casey added that he does not "envision that it would keep us from accomplishing our worldwide missions."
Those, however, were the strongest voices of opposition to be heard from the 10 civilian and uniformed military leaders to come before the Senate Armed Services Committee on Dec. 2 and 3 in the wake of the Nov. 30 release of the Pentagon working group's report.
Air Force chief of staff Gen. Norton Schwartz gave an even more nuanced view that, while judged as being aligned with Amos and Casey, actually provided a path for repeal implementation that the legislation being considered could, theoretically, allow.
Saying that the Air Force "can accommodate repeal with moderate risk," Schwartz said he "cannot agree" with the working group report's conclusion that the short-term risk is low. He suggested "deferring full implementation and certification until 2012" – a comment he repeated several times during the senators' questioning of the panel – while adding that legislative action is "far" preferred to the possibility of court action.
The other three individuals who testified – the vice chairman of the Joint Chiefs of Staff and the heads of the Navy and Coast Guard – directly supported repeal.
Gen. James Cartwright, a Marine and the vice chairman, echoed chairman Adm. Mike Mullen's comments from the day before, saying that "servicemembers look beyond … sexual orientation" and concluding that "we embrace and are strengthened by the many differences among us."
The chief whose comments were most supportive came from Adm. Gary Roughead, the chief of naval operations, who noted that 76 percent of sailors believe repeal's impact would be neutral or positive. He assessed the "risk [of repeal] to be low" and added that he believed "recruiting and retention will not be adversely affected in the short term."
In addition, the commandant of the Coast Guard, who reports to Homeland Security Secretary Janet Napolitano but in event of war serves under the Navy Department, was very supportive of repeal. Adm. Robert Papp said repeal "will remove a significant barrier to those Coast Guardsman who are capably serving," although he added, "prudence dictates that implementation must proceed with caution."
For ongoing and immediate coverage of DADT, visit MetroWeekly.com.