In one way of looking at it, HIV may have saved Daniel Montoya's life. At least, that's how Montoya puts it.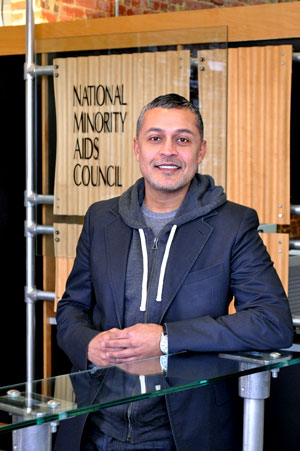 Daniel Montoya
(Photo by Todd Franson)
In 1987, Montoya, who had studied finance, was offered a banking position on the 121st floor of the World Trade Center in New York. At nearly the same time, he learned he was HIV-positive. That new reality led Montoya to turn down the $50,000 job in finance and instead accept a nonprofit position at a fifth the salary.
"It's ironic that HIV and AIDS can in some ways save your life, even though at the time you would think it was killing you," Montoya says, adding that had he taken the high-paying job he might have been a victim of the 9/11 World Trade Center attack.
Instead, since making the transition from finance to HIV/AIDS advocacy, Montoya has become a prominent figure. The 48-year-old D.C. resident has worked for the public relations firm Hill & Knowlton, and on the President's Advisory Council on HIV/AIDS during the Clinton administration. Most recently Montoya made a difference in the movement working at the American Institutes for Research (AIR).
"I led all of [Centers for Disease Control and Prevention's] public education efforts and helped them launch a campaign called Act Against AIDS," he says.
And just three weeks ago, Montoya began working as deputy executive director of the National Minority AIDS Council (NMAC).
"What I would like to accomplish is, at least in the realities that we find ourselves now with the new Congress, is to really protect as much of the HIV/AIDS funding for many of the HIV/AIDS programs across the board moving forward," he says.
In the meantime, NMAC will commemorate National Black HIV/AIDS Awareness Day, Feb. 7, by presenting a month of activities.
Other organizations commemorating National Black HIV/AIDS Awareness Day include Whitman-Walker Clinic, offering a "community day" with free HIV testing, counseling, educational workshops, food and entertainment at the Metropolitan Community Church of Washington D.C., 474 Ridge St. NW, from 12 to 6 p.m. on Saturday, Feb. 5. Us Helping Us will hold a song and poetry fundraiser, "Fire and Desire," to mark the day, from 7 to 9 p.m. on Feb. 6, at Busboys and Poets, 2021 14th St. NW. Admission is $10.
While Montoya says there's a lot of work to be done with HIV/AIDS prevention, he commends how far the movement has come in the last 30 years.
"I decided to get back involved because I felt like there was a need," he says. "I felt like the best that I thought I could offer was not just my historical perspective and involvement in the epidemic, but I had purposefully worked to try and get some additional experience and skills in order to be a better advocate and a better organizer, a better person in trying to be able to address some of the challenges."
To learn more about National Black HIV/AIDS Awareness Day, as well as NMAC programs and services, visit nmac.org or call 2020-483-6622.