Luis Alfaro got turned on to the theater when he was 15 as part of community service — literally. "I actually got arrested for shoplifting at Olvera Street, which is a tourist site in L.A.," he explains. Offered a choice of community service at a jail or theater, he leapt to the latter.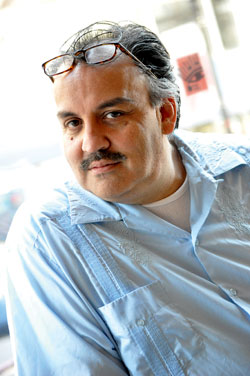 Luis Alfaro
(Photo by Todd Franson)
And it was through that community service that the Angeleno, who grew up "in a really religious family…in a very violent, very poor neighborhood," met a New York playwright and started honing his craft. "Once it kind of hit me, it hit me immediately," he says. "Oh my god, this is my calling."
Now 49, Alfaro, an assistant professor in the dramatic writing program at University of Southern California, is still serving his community through theater. He's written plays informed by his experience as a gay Latino, "always the other in a very macho-oriented culture and society."
Recently, Alfaro has been branching out into television and film. He wrote the screenplay for the new film From Prada to Nada, which he describes as "an adaptation of Sense and Sensibility for Latinos."
Currently, Woolly Mammoth is staging his adaptation of Sophocles' Oedipus Rex, about struggling to escape a predetermined fate. Oedipus el Rey is set in the barrio, starring a juvenile delinquent. Alfaro is fascinated by the lingering resonance of ancient tales, and often hears echoes of the stories when he meets with struggling Latino youth. "[In Oedipus], here's this young man who wants to be a king, who wants to control his own destiny, but the gods have another plan for him," he says. "Fourteen hundred years later we're still living out these myths in our culture."
Oedipus el Rey runs to March 6 at Woolly Mammoth, 641 D St. NW. Tickets are $30 to $65. Call 202-393-3939 or visit woollymammoth.net.