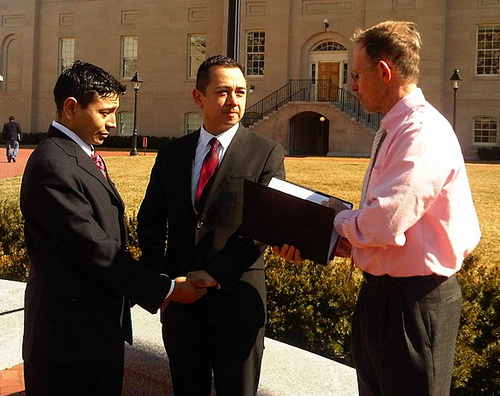 [Photo: Edwin Echegoyen, left, and Rodrigo Martinez are married in the District on March 1 (Photo provided by the DOMA Project).]
Attorney Lavi Soloway provides the following update about Edwin Echegoyen and Rodrigo Martinez. The Maryland couple, who married in D.C. on March 1, faced separation today, as Martinez was due to surrender in Baltimore for deportation to El Salvador.
Soloway relayed that "Rodrigo was released" in an email sent to Metro Weekly at 2:30 p.m. today.
Talking with Metro Weekly later this afternoon, Soloway said, "They're not moving forward with a deportation at this time. They're waiting for his case to work his way through the process."
Soloway said that Martinez did report to immigration officials' custody earlier today but was released under an Order of Supervision, which is taking into account his Motion to Reopen Proceedings and Motion for Emergency Stay of Removal and the pending Petition for Alien Relative — beased on their marriage — filed by Echegoyen.
Under the order, Martinez will need to report to Immigration and Customs Enforcement officials monthly. Additionally, Soloway said, Martinez must notify ICE of any travel outside of the Maryland, Virginia or D.C. area for more than 48 hours.
As Metro Weekly reported last night:
On March 7, Soloway filed a Motion for Emergency Stay of Removal, which would prevent Martinez's deportation, and a Motion to Reopen Proceedings and evidence of the marriage, which could lead to the consideration of whether [the Defense of Marriage Act] should continue to prevent Echegoyen from being able to sponsor Martinez, with the relevant officials.
Ordinarily, an American spouse would be able to sponsor his or her spouse for immigration purposes, but DOMA has in the past prevented same-sex couples from sponsoring their spouses – even when legally married. As detailed by Metro Weekly, Soloway is raising challenges to that practice following the Department of Justice's conclusion on Feb. 23 that Section 3 of DOMA is unconstitutional.
Of the circumstances of the new Department of Justice conclusion about DOMA, Soloway said, "I believe they're aware of it because they review the documentation carefully."
[NOTE: This post was revised and updated following an interview with Soloway at 3:55 p.m.]