Matt Boehler photographed at Wolf Trap by Todd Franson
"There's nothing more gay than opera!" exclaims opera singer Matt Boehler. "We have fabulous divas wearing fabulous things, shrieking and being dramatic!" He's joking, of course. But then again, he has a point.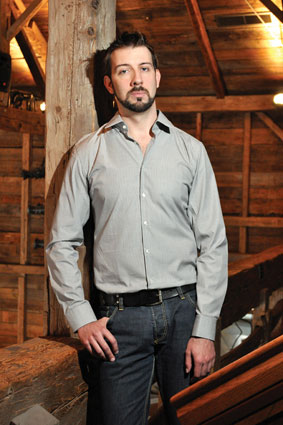 Matt Boehler
As for his own involvement in the art form, the gay 34-year-old didn't expect to become an opera singer. "I think all [opera] singers, especially here in America, take a circuitous route to get to opera because it's not part of our mainstream culture." Boehler earned his undergraduate degree in Wisconsin in theater, performing in a mix of straight plays and musicals — until he butted up against limitations as a bass.
"With very few exceptions, there aren't very many [roles for] a real bass in music theater," he says. "That's one of the reasons why I started looking elsewhere."
Boehler started his opera career in 2000, and then honed his craft further as a Filene Young Artist with the Wolf Trap Opera Company in the mid-2000s. He's now returning to Wolf Trap to perform in The Inspector, the second opera the Wolf Trap Foundation has commissioned. John Musto and Mark Campbell's comedy is based on Russian writer Nikolai Gogol's The Government Inspector, but the pair have transposed the play to 1930s Sicily under Mussolini's reign, and written it in English.
"There's a lot of humor to be mined in abusive power," says Campbell, who wrote the opera's lyrics. With Musto, he also wrote Wolf Trap's first opera commission, 2004's Volpone. "Dictators are just funny," at least when they're onstage, out of real harm's way.
Kim Witman, director of opera and classical programming at Wolf Trap, says The Inspector, with a cast of 11, will appeal to fans of American musical theater as much as to lovers of opera.
"Every year the boundaries get blurrier between what's opera and what's theater and what's musical," says Witman. "This is probably called opera because opera singers are singing it and they're doing it with voices that are trained to deliver without microphones. … But really it has more in common with some musical theater pieces than it does opera."
Indeed, librettist Campbell is also known as a book writer for musicals, including Signature Theatre's most recent work And The Curtain Rises. He likens his approach to Stephen Sondheim. "Everyone knows [Sweeney Todd] is an opera," says Campbell, adding that Sondheim once split the difference about his most famous work, saying: "When it's playing in a theater, it's a [musical], and when it's playing in an opera house, it's an opera."
So then The Inspector, staged at Wolf Trap's theater space The Barns, should be considered a musical?
Well, whatever you call it, Witman says the venue should not be intimidating for even an opera newbie. "People are comfortable there. It's not a very stuffy place to be," she says, adding, "You can take your drinks in!" In fact, organizers are toying with creating '30s-era cocktails just for the opera's run.
In The Inspector, Boehler plays Adolfo, director of order in the fictitious corrupt town of Santa Schifezza. "He is not terribly bright, but he's a brute," says Boehler. "Sadistic, maybe harbors a few dark fantasies, violent sorts of things. [He's] not a tremendously nice person — which is kind of what us basses do. We specialize in not-nice people."
And there's the rub. There are more parts for basses in opera than in musical theater, but they're usually the bad guys. "That's what we do, we play the bad guys and the fathers, priests and idiots," he says. "Very rarely the lovers."
Later this year Boehler will appear at the University of Maryland's Clarice Smith Center where he will reprise a cabaret-style show, Manning the Cannon: Songs of Gay Life, that he recently performed at the New York Festival of Song with two other male singers and a pianist.
What about a gay opera?
"There's not much that's explicitly gay in opera yet," he says with a laugh. "In some ways, opera is so gay that it might be like gilding the lily a little bit, you know?"
The Inspector runs Wednesday, April 27, and Friday, April 29, at 8 p.m., and Sunday, May 1, at 3 p.m. 'The Barns at Wolf Trap, 1645 Trap Road, Vienna. Tickets are $32 to $72. Call 703-255-1900 or visit wolf-trap.org.