Britney Spears just wants to fuck. Is that so wrong?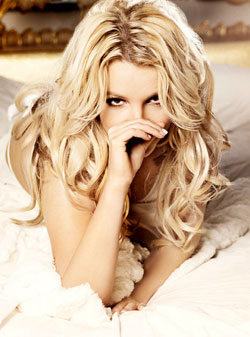 Britney Spears
All throughout Femme Fatale, her new seventh studio set, Spears talks about getting it on with a man, or ultimately, men – the wilder, the more dangerous, the better.
"Give me your gasoline … you're setting me on fire," she sings on "Gasoline." "Pop it like a hood, and show me how you work it out," goes the bridge to "Hold It Against Me."
And she doesn't just speak in metaphors and euphemisms.
"I know you wanna touch, but it ain't for free," she sings on "(Drop Dead) Beautiful." "I don't need your money, I just want your D. Boy, come over here with your sexy ass."
She even spells it out at one point. Maybe she was afraid her point wasn't plain? "You can be my fuck tonight," she sings on "How I Roll."
Ultimately, no one is surprised by Spears's wanton desires. And if she only used her ribald lyrics to hook and seduce us – as cute as they often are – few would give her a second look.
Too many people, in fact, give Spears a second look only because of her tawdry public persona, from her provocatively sexual imagery to her very public meltdown a few years ago. They either go out of their way to ignore her music outright, or listen to it mostly in secret, afraid that their peers or influential others would find their musical taste suspect if they knew.
It's Britney against the music – her music – you might say.
But Spears deserves more respect. Because if you can look past the spectacle, you'll be rewarded with some great pop, now more than ever. Femme Fatale is probably Spears's best album to date, and that's not damning with faint praise in the least. The onetime Mousketeer's past three albums – all those since her meltdown – have been compelling collections of choice dance-pop.
Her 2007 Blackout set the pace for the following year's true comeback, Circus, and it serves even more as the template for Femme Fatale. Like the underappreciated Blackout – home to hits "Gimme More" and "Piece of Me" – the new set is essentially ballad-free. It's certainly her most consistent, and consistently moving.
Spears says her goal with the new set was to make a "fierce dance record where each song makes you want to get up and move your body in a different way." She ensured this by re-teaming with her original hit makers, Max Martin and his protégé Dr. Luke ("Hit Me Baby, One More Time"), enlisting them as the set's executive producers. There's really not a track you'd rather sit out among the dozen.
"(Drop Dead) Beautiful" sounds like some swaggering disco-fied tune straight from Madonna's Hard Candy. "Criminal" echoes earlier Britney and Madonna, though she flips the script of "Papa Don't Preach." "Mama, please don't cry, I will be all right," she sings. "All reason aside, I just can't deny, love this guy."
Actually, the whole album is like a modern-day take on '90s-era dance-pop, when hip-hop was used more sparingly than trance – but still there – not the other way around. The sweet "Trip To Your Heart" doesn't need a remix from Tiesto. It's already got that trippy, euphoric feel built-in.
Spears encourages her producers to develop dazzling electronic experiments, most notably by manipulating her voice. Though she also belts here and there and proves that she's able to do more than just coo and curl with her voice, she takes the use of auto-tune and vocoder to the next level. (See "Trouble for Me" for a winsome example of both live and manipulated vocals.) Spears's use of studio trickery is more creative and more appealing here than on recent albums from other artists. Her digitally processed voice becomes its own percussive instrument at various points. For example, her voice un-spools when she reaches the second syllable to the word "speaker" on "How I Roll." It gives any speakers playing the edgy yet sweet track, with its patty-cake-based rhythm, a roll.
And then there's the bass. Femme Fatale is Spears at her edgiest, and much of that edge comes from her shockingly deep work in the lower register. By the time her track with the Black Eyed Peas' will.i.am comes around, you've already admired the set's "Big Fat Bass."
Ah, yes, another euphemism. "I can be the treble, baby, you can be the bass," Spears coos, before admiring the, uh, bass. "It's getting bigger, the bass is getting bigger," will.i.am responds. And it does.
Pardon my language, but, well, who wouldn't want to fuck that?