When you hear Jennifer Holliday launch into her signature song, "And I Am Telling You I'm Not Going," with the Gay Men's Chorus of Washington in early June, keep this thought in the back of your mind:
Thank God for tonsillectomies.
As a kid growing up in Houston in the early '60s, Jennifer-Yvette Holliday aspired to be a politician. Circumstances changed once she had her tonsils removed. A voice emerged. "A big voice," as Holliday recalls.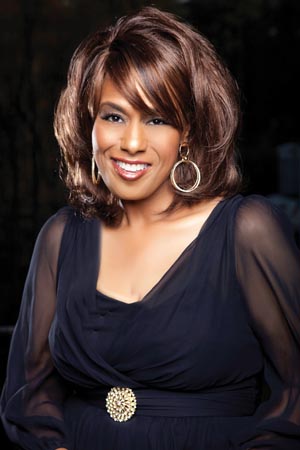 Holliday
(Photo by Corey Reese)
Like all good Baptist children with a singing voice, she was ushered into the church choir. And at some point an actor from a touring company of A Chorus Line happened to hear young Jennifer sing. The actor urged her to get in touch with Broadway legend Michael Bennett. Plucked from the choir, her next stop was Broadway. During a stint in Your Arms Are Too Short to Box with God, she auditioned for — and was cast immediately in — Bennett's Dreamgirls.
And in 1982, there emerged one of those rare moments on Broadway that attain legendary, almost mythic status. Jennifer Holliday — a voice as grand as her girth — was a star. Blazing, bright, brilliant. She won a Tony. She won a Drama Desk. She won a Grammy. Her showstopper, "And I Am Telling You," became synonymous with her persona.
In the ensuing years, Holliday's star faded. Her weight — which topped off at 400 pounds — was an issue. "I was awkward and not very attractive," says Holliday. In the parlance of the '80s, it translated to unmarketable. Her record company dropped her. But she kept performing, largely in gay nightclubs. "I was able to keep my dignity, I was able to keep going, because of the gay community," says Holliday.
Two failed marriages, a diagnosis of multiple sclerosis, financial woes, clinical depression, attempted suicide — Holliday's life carried that tragic stamp from which gay icons are forged. Except, notes Holliday, "I escaped tragedy."
She lost the weight (via gastric bypass). She got her finances under control. She found a way to manage her MS. And she kept singing.
Because in the voice of Jennifer Holliday, there is power. Power to lift the spirit. Power to stir the soul. Power to rekindle hope, joy and love. Power to leave those listening breathless, in awe.
METRO WEEKLY: I first encountered you at a gay bar in Washington called The Fraternity House. They used to show clips from performances and such throughout the evening and I remember very clearly one night they played a clip from Dreamgirls — I believe it was from when you sang "I Am Telling You I'm Not Going" at the Tony Awards. The entire bar went silent. Every single person was transfixed. Your voice, your emotion filled that room. It was a miraculous performance. In some ways, your Dreamgirls performance of "I Am Telling You" defined your status as an icon in the gay community.
JENNIFER HOLLIDAY: I don't think that performance defined me with the gay community. I think it was Dreamgirls itself and Effie, the character I played. We're looking at 30 years ago. Thirty years ago the gay community was outcast and despised, looking for their own voice. And you had me there at the beginning of the AIDS epidemic, which had no name then — only the gay white man's disease. There were a lot of deaths around the gay community. I think at that time, my character came along and identified herself with the underdog, the loser, the person no one loved, the rejected, the dejected. The gay community, with so many people not even able to come out back then, recognized pain. I think pain recognizes pain. The reason I say that is because when I lost weight, I got a lot of letters from the gay community saying that I had betrayed them.
MW: That's an interesting response.
HOLLIDAY: One thing that people are uncomfortable with in today's society is happiness. If you say, "I'm getting my life together," they go, "What about me?" Well, what about you? You can come along, too. It's a long process, finding yourself and finding peace and some kind of happiness that goes with life. I almost took myself out of here. I wanted to die, and at 30 years old tried to kill myself. I know very well what it's like to feel hopeless and unloved.
Had it not been for the gay community, there would definitely be no Jennifer Holliday. Had they not been as faithful and in love as they were, I don't think I would have existed now.
MW: I can't believe that.
HOLLIDAY: Well, you are only looking at music. Look at circumstances. There would be no Jennifer Holliday without the gay community mainly because when I didn't have a record, didn't have a Broadway show, it was the gay community that gave me work. I was overweight — they didn't care. I didn't have a record — I sang in bars at 4 and 5 o'clock in the morning. I was able to keep going, because of the gay community.
You've never heard anything about any of the problems I had — especially my financial problems. I lost everything. But I had the ability to eat and take care of myself because I could always count on something from the gay community. That's all I'm trying to say.
MW: I know you went through some personal difficulties. You had two marriages that didn't work out, for instance, and it was devastating on you.
HOLLIDAY: And I have had multiple sclerosis for over 15 years. I've been blind. I've been paralyzed. I've been through a whole lot of things. And I didn't have to be pitiful because of the gay community. They let me keep my dignity.