Attorney Lavi Soloway writes, "San Francisco Immigration Judge Marilyn Teeter has granted [Immigrations and Customs Enforcement] Motion to Administratively Close Deportation of gay Venezuelan Alex Benshimol, ending the nightmare faced by Alex and his American husband, Doug Gentry."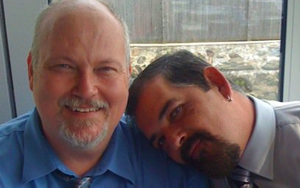 Soloway — the co-founder of Stop the Deportations and lawyer representing Benshimol — notes that the decision was dated August 11 and received today.
In July, Teeter had put off a decision on the case until 2013, but had given the U.S. government 60 days to decide whether it was going to continue with Benshimol's deportation.
Soloway writes, "According to the documents received today, ICE moved quickly to notify the court by the beginning of August requesting that the case be dropped. A few days later, the Judge granted the government's motion and closed proceedings."
This is at least the second time ICE has taken such an action in a case. Earlier this year, in a case involving another Venezuelan, Henry Velandia, and his husband, Josh Vandiver, the ICE office in Newark, N.J., took a similar action, noting that Velandia's case "is not an enforcement priority at this time."
The move appears to be in line with the plan laid out earlier this week by Department of Homeland Security Secretary Janet Napolitano for focusing on the "highest priority" deportation cases.
[Photo: Murphy (left) and Benshimol (Photo courtesy of Stop the Deportations.).]