After six years on Broadway, national tours and a splashy big-screen adaptation, how much charm could be left in the Charm City of the musical Hairspray? More than you might expect in Signature's new production, as long as you don't expect it from the usual source: the leads.
That's right, hon. Forget about Edna and Tracy Turnblad, the plus-size mother-daughter duo who burst the seams of their humdrum lives in 1962 Baltimore and find a way to be fabulous on their own terms. In one of the odder only-in-D.C. marketing stunts you may ever see, director Eric Schaeffer has sacrificed the role of Edna to provide the musical theater stage debut for public broadcasting personality Robert Aubry Davis — WETA's Mr. Around Town himself — who, while not a total train wreck, often looks as befuddled as you might be as to why this ever seemed like a good idea.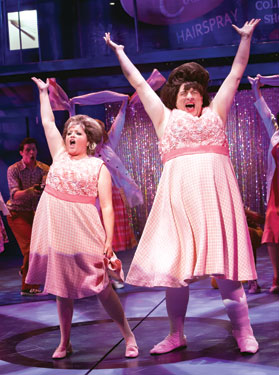 Hairspray
Surely anyone who would be drawn to the box office by Davis's name would still expect a level of confidence and competence that escapes him as he — following far, far behind in the footsteps of Divine (in the 1988 John Waters film), Harvey Fierstein (in the 2002 Broadway musical) and John Travolta (in the 2007 movie version), among others — struggles with his simple choreography, songs and line readings.
Davis's performance does leave a wide berth, though, for the clearly talented Carolyn Cole as Tracy, the high schooler who finds fame, love and a cause (integration) after she makes her way onto a teen dance show on local television. But as skilled as Cole is, vocally and comedically, she seems so determined to put her own stamp on Tracy that she stamps out some of the character's most endearing qualities. There is nary a trace of naivete, vulnerability or wide-eyed innocence in this Tracy. No, Cole has a calculated, knowing, self-satisfied style that never gives you an underdog to root for, only a top dog who smugly cracks jokes and has no doubt that a happy ending is coming her way.
Thankfully, there are stellar supporting performances that make up for the missteps. As the black record store owner Motormouth Maybelle, Nova Y. Payton may be reason enough to see this Hairspray, given her showstopping rendition of the gospel-tinged anthem of racial struggles, "I Know Where I've Been." But there's also the charisma and sex appeal of James Hayden Rodriguez as Maybelle's son, Seaweed, and Patrick Thomas Cragin as Link Larkin, the teen idol in training on The Corny Collins Show.
HAIRSPRAY



To Jan. 29
Signature Theatre
4200 Campbell Ave.
Arlington
$63-$86
703-573-SEAT
signature-theatre.org
Rodriguez is well-matched with Lauren Williams as a neurotically funny Penny Pingleton, Tracy's best friend and Seaweed's racial-barrier-crossing love interest. And the references to Link as Baltimore's Elvis actually ring more true in Cragin's sensual swagger than they did in the angsty heartthrob approach taken by Matthew Morrison on Broadway and by Zac Efron in the '07 film.
Yes, Charm City via Shirlington may have its limits, but it's still a fun destination populated with enough talent that it doesn't feel like slumming.
NOW, IF SOMEPLACE international is more to your liking, you'll want to head to Southwest Washington, where Arena Stage's Fichandler has been turned into an ancient Roman arena for Amy Freed's heady historical comedy, You, Nero.
In the waning days of his reign, the destructive, egomaniacal emperor Nero has enlisted a faded playwright, Scribonius, to pen a work that will make Nero's subjects sympathetic toward him. But can theater ever triumph in a society that has been conditioned to embrace the "reality shows" of the time — where limbs are lopped off and blood flows freely?
YOU, NERO



To Jan. 1
Arena Stage
1101 Sixth St. SW
$40-$85
202-488-3300
arenastage.org
The dialogue is consistently crisp and quippy, and the characters are drawn quite broadly in director Nicholas Martin's staging — right down to a fun visual style (including costumes by Gabriel Berry and wigs by Cookie Jordan) that evokes flourishes of mid-20th-century animation and A Funny Thing Happened on the Way to the Forum-style Broadway showmanship.
By the second act, though, you realize that Freed's points about mixing politics and culture, and about a society that turns its back on art, were pretty much made loud and clear early on. Danny Scheie's Nero — fey and flamboyant (think Carson Kressley with more bloodlust) — wears thin, Jeff McCarthy's sort-of suave Scribonius goes nowhere interesting, and lively performances such as Nancy Robinette as Nero's incestuous mother and Susannah Schulman as his scheming sexpot wife similarly trail off in a diffuse narrative.
Rome wasn't built in a day, as they say, but You, Nero would have been more solidly built in one act.