Holland Taylor is obsessed. Not with image, or awards, or even celebrity. She's obsessed with the late governor of Texas, Ann Richards.
Coming to the Kennedy Center Dec. 17, Ann: An Affectionate Portrait of Ann Richards, is perhaps Holland Taylor's most ambitious project to date. A one-woman play that she wrote and in which she stars, the project hits her to her core.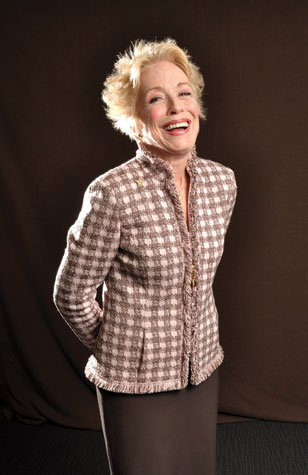 Holland Taylor
(Photo by Todd Franson)
Taylor met Richards years after her time as governor. "The impression, the imprint on your mind is of a face of such delight," she says of the experience, "and such a warm smile.
"People were not shy around her," she continues. "She put you so at your ease."
Some have been wowed by Taylor's effort to capture that spirit. Don Temples, who spent time in D.C. working at the Human Rights Campaign and who had earlier worked for Richards, was someone to whom Taylor turned while researching the show.
"My first reaction was I started crying," says Temples of seeing Ann onstage for the first time, "because [Holland] was so spot-on in her interpretation of Ann and the spirit of Ann. It was as if someone I love very much, who I know is dead, was suddenly there again.
"And then," he continues, "feeling that loss, that, 'No, it isn't Ann. It's just this wonderful play and this wonderful care that this artist is doing to interpret her life.' For someone who was very close to her, and lived through some of the things she talks about, you go, 'Wow.' It was just amazing."
For Taylor, the Emmy Award-winning actress who plays the curt and at times caustic grandmother Evelyn Harper on Two and a Half Men, and who has hit both gay and lesbian fan bases with her role on The L Word as Peggy Peabody and in Legally Blonde as Professor Stromwell, it was Richards who was amazing.
Following Richards's death in 2006, Taylor decided putting the governor's life onstage was the way to go.
"[Holland] had this dream and vision to do this play," says Temples. "She'd been working on it like crazy. And there were times when she was writing it, you'd think, 'Holland, how are you ever gonna come to [an end]?' But she did. She really did bring this in. It's an act of love, of passion for Ann and for the spirit of her, her voice, who she is."
METRO WEEKLY: When did you decide you were going to do this show about Ann Richards?
HOLLAND TAYLOR: About four months after she died. She had gotten under my skin in ways I didn't know as a public figure. She was very important to me and represented something to me, which I only discovered when we lost her in such an untimely way. She was at the height of her game.
I was just so saddened, the way a child is, lying on the floor and beating your feet. It went on for so long that I thought, "This is ridiculous. You didn't know this person." That's when I realized I was not just sad for me. I was sad for the country. The inspiration she gave to "the insulted and the ignored" was so vital that I could not stand that America had lost her.
MW: What sparked the creative process?
TAYLOR: I just had all this energy swirling around about her. Were I a painter, I would have painted her. Were I a composer, I would have composed a symphony dedicated to her.
I never acted on this impulse, and one day I was driving to work on Two and a Half Men. I was berating myself. And, it suddenly came to me, "It should be onstage because she was ideal for stage." She was all about the human connection. As she would say, "I connect with people. One on one, one on one, one on one." And she believed it was important.
MW: When did you begin writing the play?
TAYLOR: I had met Gov. Richards through Liz Smith, who is my old friend. She was very close friends with Gov. Richards, especially in the New York years. Liz was a Texan, a good old girl like Ann.
So, I told Liz this idea. It's interesting, in retrospect, because she gave me all their correspondence, all their emails, over a period of 10 years. And, I realized only afterward how close they were. So, my coming to her a mere four months after Ann's death must have been painful because she was still in deep mourning. And, I said, "Obviously, this is much too early for you to speak to anybody in the family, and I'm going to start researching on my own, but, perhaps in time, you will effect an introduction." And she did. I met Ellen and Cecile at a luncheon in honor of Ann. They're the children, and they've been pecked to death. Everybody and his uncle wanted a piece of Ann. But I think their general response was, because of whatever Lizzie said, "Well, this is a reasonable proposition. This woman can do this." How Lizzie would have known that, I don't know – because I certainly didn't.
MW: You talked with Don Temples, who worked for Ann, in your research for the play.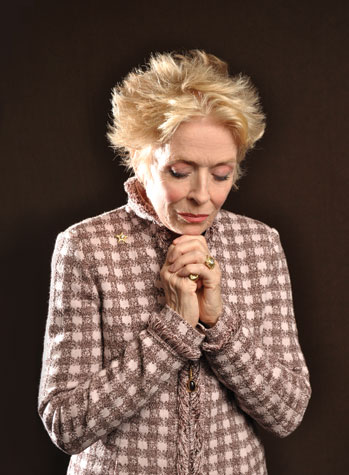 Holland Taylor
TAYLOR: Don and I got together early and he wrote me a number of extremely helpful letters and we had wonderful phone calls. He's so literate, and he's so articulate. So, he gave me a lot of intense information.
During the center piece of the show, [Ann] has many exchanges with her secretary, who's just outside the door of her office. And, she yells at her secretary, and her secretary speaks to her on the intercom and keeps reminding her that the intercom is working.
Nancy has a real identity, so, I needed to understand Nancy, and Don wrote me a two-page thumbnail sketch of Nancy that really informed my crafting that role.
MW: What were you looking for while researching Richards?
TAYLOR: I was in search of her persona. I never was in search of a history or anything that was like that. My goal was, "Who is she? Why was she so potent – to me and others? Why was she so captivating?" And, if I couldn't name it, I could at least feel it more and get the sense of it more, so that I could replicate it.
MW: If this had been 10 years later, she would have been a constant topic of speculation for the presidency.
TAYLOR: There's no question. She left office, she was 60, and she was cooked. She was plenty cooked. No one does a leadership role like she did it. She was, by her own temperament, work driven. If she had been 50 when she left the governor's office, she would have been the first female president. She had all those big qualities, and she also had integrity that was just remarkable.
MW: What kind of president do you think she'd have made?
TAYLOR: She would have been remarkable as a president. You know, people said that to her. She waved it aside. She said, "It's not my time."
MW: You're bringing this story to a city where everything's partisan. Even when it's not.
TAYLOR: Well, it's going to be interesting. Ann was bigger than partisan politics. Ann was a very, very embracing person. Among her personal friends and associates, there were plenty of Republicans. She was just a very big person, she was like a general. She was a staunch Democrat, you see that in her policies, but in her leadership, she was really interested in the large swaths of people. She just wasn't a small person.
MW: How do you think hyper-political people will see this play?
TAYLOR: I think they'll think about their inner-lives and the things that matter to them in the broadest sense and how meaningfully they're living.
The audience grasps right away where they are and what the occasion is. Audiences come to the theater because they want something. I've tried to think, "What do they want? What would be worth having?" So, you chip away and you chip away.
When I started writing, there were many, many things that I put aside that would be in the play, but that I realized at some point, "Oh, Holland, none of this is going to be in the play."
I have a midnight letter, written in despair, at an extremely terrible moment in her primary campaign, when she was up against two Democrats.
She wrote a midnight letter to her main advisor, Jane Hickie. She said words to the effect of, "I can't bear this. I don't want to lose the election, but I don't want to lose myself in the process." She said things like, I don't think I'm quoting her exactly, but, "People who are not in the core of the campaign, who don't understand what we're up against, are shocked by the course we are taking, and I can't bear this negativity. I'm sorry to dump this on you, but I have no one else to tell. Love, Ann." And she left it on her desk at midnight.
MW: And that's not in the show?
TAYLOR: No. I literally wept.
I perceived that all of these favorite things were not going to be in the play. And, I started to weep – tears rolling down my face. And I said, "But, I want them to know. I want them to know." Because these are all stories that just moved me so much. And, I realized, "No, what is important is that you know. So that what truth you can tell in the form of a play will be true." It was a very hard moment. Very hard.
Our play's actually plenty short now.
But, I remember in Galveston, when it was very long, everyone stumbled out into the night very joyous. It was an extremely joyous first performance, oh my God. There was this former senator, who said apropos of nothing to no one in particular, "It wasn't long enough!"
MW: I have to ask you about The L Word.
TAYLOR: That was a great character. The first appearance of that character was the past. "Peggy Peabody." First of all, I love the name so much. I love saying, "Hello, I'm Peggy Peabody." What's better than that?!
MW: The best description of you in that show was that whenever you appeared, they knew that something big would happen.
TAYLOR: Ilene Chaiken, who produced the whole thing would let me do some ad-libs to beef up the text sometimes. I certainly let fly a few times, with some ad-libs.
MW: What was your favorite?
TAYLOR: When I saw Helena in jail, I sort of did this whole riff on that I had been on this Easter egg hunt with this bunch of millionaires and that I found something to smuggle out of the country. I said, "Priceless, darling, and terribly illegal, sort of like you." And Ilene just said, "Keep that!"
MW: Bosom Buddies was your first TV job. Thanks to the wonders of YouTube, I was able to watch the beanbag scene.
TAYLOR: My teacher was Stella Adler, and Stella would say, "Don't ever have a prop that you don't handle or don't use. If you're in a room, inhabit it." So, we had a scene where we were in their college dorm room when I was hiring those two boys, and it was missing something that would say, "college dorm room." And, all at once, I thought, "Bean bag chair is right for college dorm room," but it will be right for her to sit in and be ridiculous in. I like – when I play these snooty, rich characters – I like revealing their pomposity or ridiculousness, including my own because I'm very much capable of making those kinds of asshole remarks myself.
So, I just got this idea that she would be clumsy in this chair, and then, when we got the prop, and I was in it, I thought, "She can't get out of it – because I can't get out of it!"
I've seen that on YouTube, and I'm so thrilled it's up there. I love physical comedy, and I don't usually get to do it with my characters.
MW: What can you tell us that we don't know about Two and Half Men?
TAYLOR: A lot of people, even the average Joe on the street, know what I would say is true: It's all about the writing. It has always been all about the writing. It is the most consistently brilliantly written show on television. These are crafted scripts, and actually, I learned a lot about writing from the executive producers, who write on their feet.
They have retooled the show in a kind of miraculous way. I don't take anything away from Charlie [Sheen] when I say that Ashton [Kutcher] is very, very gifted and he's very witty. It's a totally different direction and tone. I love Charlie, and the cast loves him. And we miss him. But that has nothing to do with the excellent show that they're making now.
MW: The ratings are up.
TAYLOR: Well, Ashton brings a big, young audience. He's very witty in his own right and so smart. People seem very happy with it.
MW: Actually, I really wanted to ask you about your Aid for AIDS work.
TAYLOR: There's something called the Best In Drag Show – I am a judge every year. Everything that's made on this event, it's something like 93 percent of it, goes right into the pockets of the clients. There's an AA organization that my executive producer, Chuck Lorre, is a trustee of. The Clare House, which is a recovery house.
I like actually knowing the organization. You really see them and you know about them, and you know where they are. And you know that your dollar is well used. I think the more organizations like that that more people are directly involved in them, the more fun it is to give.
So, the Best In Drag Show is this wonderful yearly event, which guys work on all year, and it's very witty, and it's the oldest tradition ever. The drag show is very ancient, probably the second oldest one. [Laughs.] And, we make about $300,000 every year.
MW: Has any of Ann's family seen the show?
TAYLOR: Both of her sons came to the play in Austin. I told them, "Don't come. You've been very supportive. … I don't expect you to come, because, after all, how can I be like your mother? I'm not going to be like your mother, not for you." But the boys did come, which I did not know – thank goodness. And they both wrote me the most beautiful letters. "We were both sobbing and laughing at the same time." It was very moving to have their enthusiastic approval.
Ann: An Affectionate Portrait of Ann Richards plays in the Kennedy Center's Eisenhower Theater, Dec. 17 to Jan. 15. Tickets are $54 to $95. Call 202-467-4600 or visit kennedy-center.org.
Taylor will visit The Theatre Lab, 733 8th St. NW, on Thursday, Dec. 8, from 7 to 9 p.m. where she will be discussing her acting career and holding a Q&A with the audience. Admission is $15. Tickets may be purchased online at theatrelab.org or by calling 202-824-0449.