Camp, like beauty, is in the eye of the beholder.
For some, a camp movie is the unintentional hilarity of an earnest story gone wildly awry. For others, the best camp movies are those in which the camp is intentionally baked in from the beginning.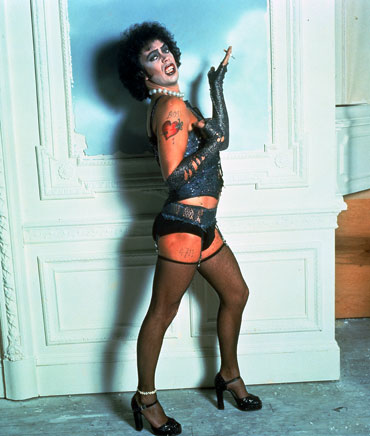 Rocky Horror Picture Show: Tim Curry
We all know that a camp movie by definition is filled with quotable lines, like Divine's "I told you cha cha heels! Black ones!" But a movie with memorable quotes isn't necessarily camp, like Steel Magnolias' "Drink your juice, Shelby."
It's just all so confusing. So when we set out to pick our favorite camp movies, we focused on the movies that we've watched over and over until they've become part of our queer pop-culture DNA. They're the movies we watch with old friends and the movies we introduce to new friends. They're the movies that over decades have become the shared cultural touchstones for everything gay.
And, frankly, they're simply and supremely silly, even if they're trying not to be.
These aren't the movies that won Academy Awards (with one notable exception). They're the movies that gave us an attitude.