1. The Rocky Horror Picture Show (1975)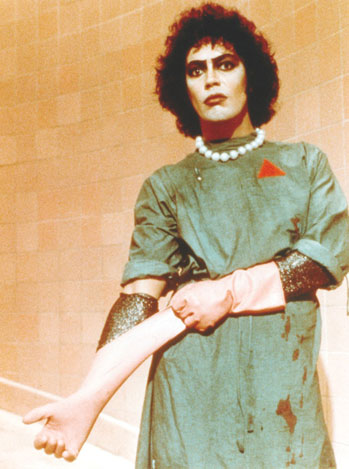 Rocky Horror Picture Show: Tim Curry
When we asked what you thought was the campiest film ever, it was no contest: The Rocky Horror Picture Show came through in a landslide of reader votes. And this is how it should be.
Rocky Horror is an intoxicating blend of intentional camp — essentially every moment that Tim Curry is on-screen as the sweet transvestite and evil scientist Dr. Frank-N-Furter — and the unintentional camp of wooden performances and plot insanities that stand out even in a movie already operating at a pretty high baseline of insanity.
But what really makes Rocky Horror different, what makes it camp in a way that no other film on this list achieves, is the audience. Rocky Horror isn't just about tossing around quotes from the movie among friends, it's about crossing over into the screen and being a part of the movie itself. Thirty-seven years later and we still have theaters pulling in crowds of ersatz Frank-N-Furters, Brads, Janets, Riff-Raffs and Rockys. We all know that to do the "Time Warp," we take a jump to the left and then a step to the right. And we know to yell out, "Hey Frankie, what's your favorite high-protein drink?" right before Curry purrs, "Come."
Dammit, Janet, you haven't seen it yet? Get yourself to a screening, pronto, before we take away your camp card.
All of the films in our camp series are available for purchase at Amazon.com or for rental via services such as Netflix. A 35th Anniversary Edition of The Rocky Horror Picture Show is now available on Blu-Ray.
---
---