Over the past few years the once-derelict H Street Corridor near Union Station has become one of the city's buzziest. And it has the arts to thank.
"The Atlas was the engine that brought the neighborhood back to life," says Mary Hall Surface, referring to the Atlas Performing Arts Center. Jane Lang founded the multi-venue arts complex in an abandoned art deco movie hall nearly a decade ago, intending it as a hub for the community. And the hubbub is at its height every year around this time, when the Atlas attracts upwards of 9,000 people over three weekends for Intersections: A New America Arts Festival.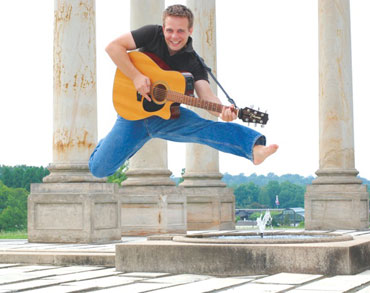 Tom Goss
"People have just responded to it deliciously," says Surface, who helped launch the festival in 2010. Now in its third year, Intersections expands to 12 days, starting this Thursday, Feb. 23, and features over 700 artists, mostly participating in multidisciplinary, curated events, more than 100 in total. "Much of what we're presenting is designed to create connections among art forms," says Surface, with filmmakers and musicians collaborating, or spoken word artists and dancers.
Even the featured art sometimes explores the festival's namesake theme, such as this year's offering from theater company The In Series. From Shuffle to Showboat, which opens this Friday, Feb. 24, recounts through a fictional story how various genres – from minstrel music to operetta to the blues – came together to create the American musical.
Also this year, local gay folk musician Tom Goss collaborates with the a cappella ensemble Potomac Fever from the Gay Men's Chorus of Washington. That concert will take place Friday, March 2, which organizers have dubbed "gay date night." Other events that night include a performance by Mara Levi, Nancy Eddy and Liz DeRoche, who together form the band the Pushovers, and an after-party hosted by the DCypher Dance hip-hop troupe.
"We've worked very hard to build community among these artists," says Surface, who notes that most area restaurants are also offering discounts for festival patrons this year. "It's been extremely affirming [to see that the festival] clearly connects with a desire on the part of D.C."
Intersections starts Thursday, Feb. 23, and runs weekends to March 11, at the Atlas Performing Arts Center, 1333 H St. NE. Ticket prices and passes vary. Call 202-399-7993 or visit atlasarts.org.