Michael Ian Black once made out with Bradley Cooper.
"He wasn't yet People's Sexiest Man Alive," Black says. "Had I known he would be that, obviously I would have videotaped it."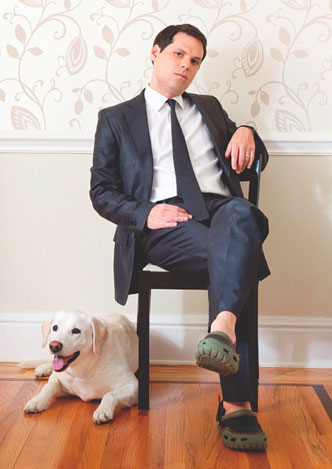 Michael Ian Black
(Photo by Natalie Brasington)
Of course, it was videotaped, as a scene in the 2001 cult comedy Wet Hot American Summer, further popularized on YouTube.
But the filmed toolshed tryst isn't the only reason people often mistake Black's orientation. "I think I just come off as gay," says the straight comic actor and writer, familiar from various shows over the years, including NBC's Ed, VH1's I Love The… series and Comedy Central shows Stella and Reality Bites Back. "I look at myself on TV and [even] my gaydar pings."
In truth, Black has long been an affiliated member of the gay community — as the New Jersey-reared son of a lesbian. "As I got older, it made [LGBT] issues very personal for me," he says. "I related very directly to [the gay rights movement] because it affected my mom, it affected people that I care about."
These days, the 40-year-old father of two is focused on raising his own family, and revealing in book form personal details about his life. Next week he'll appear at Sixth & I Historic Synagogue to read and answer questions about his new memoir, You're Not Doing It Right: Tales of Marriage, Sex, Death and Other Humiliations.
This summer, Black will release another humor-tipped book, one co-authored with Meghan McCain. Yes, John McCain's blogger daughter, whom Black says he befriended via Twitter. "We took a one-month road trip from San Diego to my home in Connecticut, and the book documents that," says Black, who says the working title is America, You Sexy Bitch. "It's kind of our love letter to our country — but there's some tough love in there." The book even documents one evening they spent with the Log Cabin Republicans in D.C.
"Lovely people. Great people," he says, queuing up a joke at the expense of gay Republicans. "But it's a little bit tragic what they're doing." '
Michael Ian Black appears Thursday, March 8, at 7 p.m., at the Sixth & I Historic Synagogue, 600 I St. NW. Tickets are $12, or $28 for a pair of tickets and the book. Call 202-408-3100 or visit sixthandi.org.