Part magic show, part witty performance piece, part hilarious guy-silliness, The Elephant Room is the theatrical equivalent of 3 a.m. in the basement "rec room" with your older brother and his friends at their funniest. Of course, this would be the brother and friends who are accomplished magicians, actors and comics – but you get the idea — the humor is outlandish, cool irreverent and just the right amount of nerdy.
Yet with every joke, gag and inventive piece of slapstick, there is also a cleverly satirical conjuring of a particular 21st century brand of Americana and a very distinct touch of the surreal. And as funny and funky as the magic is, there is ultimately an even bigger illusion in play, one that encompasses production and audience alike. Even though it is somewhat lost in the hilarity of the nearly nonstop action, the effect delivers after the show, as one contemplates the concept of persona and all it entails.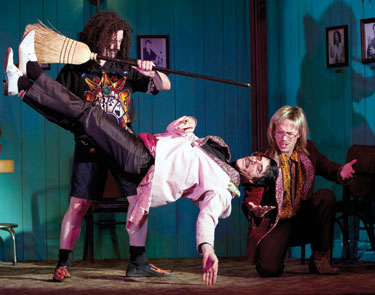 The Elephant Room
(Photo by Scott Suchman)
With a mix of backgrounds including performance art, theater and magic, the trio who created and perform this piece are clearly comfortable both in and outside of the proverbial box. Presented as a meeting of the "Elephant Room" society, the night and its antics progress with a beautifully choreographed improvisational feel that leaves plenty of room for audience reaction, rapport and the occasional bout of participation (but nothing likely to increase your therapy bill). Like seasoned street-performers, these actors know how to balance the illusion of the unpredictable, and even the chaotic, without losing continuity, pace and a pervasively cheerful mood.
To keep it all intact and fascinating for more than an hour is no small feat, and much credit is due director Paul Lazar for keeping the big picture and the momentum fully in place. And though this is without doubt a persona-driven piece, and one in which the creators' vision is lasting and vivid, mention must be made of set designer Mimi Lien and sound designer Nick Kourtides who up the ambiance and ensure that every moment is imbued with perfectly timed and palpable atmosphere.
Still, giggle-worthy set and music aside, and even though the magic enthralls, each actor/performer here is also delivering the illusion of persona. And as they weave their magic within a loose anecdotal arc, a little glimpse, albeit a vaguely ridiculous and edgy one, is offered of each holder of these personae. If it suggests that we all seek to distract the eye from our uncertain souls, then it is done with tongue firmly in cheek. But what does continue to intrigue is the way in which the characters are layered. All are obviously in semi-disguise, but who really is underneath? Is it the actor, the character, or the actor commenting on the character?
THE ELEPHANT ROOM





To Feb. 26
Arena Stage
Kogod Cradle
1101 6th St. NW
$40
202-488-3300
www.arenastage.org
As Louie Magic, Steve Cuiffo delivers a very convincing loud-shirted heavy-metal fan specializing in some of the night's more traditional sleight-of-hand and illusions. Whether intended or not, his occasional hovering awkwardness works perfectly, misfit-style, with this unconventional trio. A big presence, Cuiffo connects with the audience with an immediate good-guy warmth. As Dennis Diamond, Geoff Sobelle, polyester-clad and mustachioed, generally gives his magic a surreal touch and always delivers it with a pleasingly low-key flair. His conjuring of mystical paper petals with a fan during one sequence was as wonderful for his skill as it was for the context of the dilapidated basement. Mixing his magic with superb comic timing, Trey Lyford's awkward-but-lovable Daryl Hannah brings a joyously silly contrast to the other two and keeps an unpredictable buzz in the air. All three have the rare ability to exude sheer good-naturedness even as they dive deep into satire, riff on the audience or deceive mightily.
Any way you take it, this is an amazingly fun mind-bender. And if, in the words of the 18th century writer Samuel Richardson, "Love can pull an elephant through a keyhole," then great magic can, too.