When an opera is as much a staple in the repertoire as Mozart's Cosi fan tutte, it's hardly surprising when a director gets the urge to give it a goose. And why not? Though new takes on old favorites might not endure as artistic interpretations, when interspersed with more traditional offerings, they can bring much color and wit to the continuum.
And with director Jonathan Miller's Cosi, re-set to "yesterday afternoon in Washington, D.C.," with all that entails (cell-phones and suits, if not politics), the Washington National Opera delivers just that. Of course, it won't sit well with those who froth at the mouth at the mere mention of an adapted libretto, but for most it's a good whacking dose of Mozart delivered under the careful baton of Philippe Auguin, in the guise of a fun, mildly irreverent, entertainment. And it's hard to argue with that.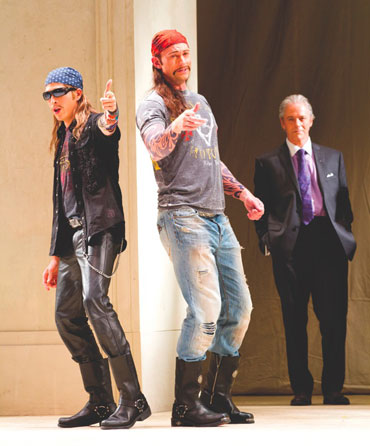 Cosi fan tutte
(Photo by Scott Suchman)
Despite the update, nothing changes in the plot. The action starts when cynical K Street-style elder Don Alfonso bets the young Ferrando and Guglielmo, who are engaged to the Georgetown-dwelling sisters Fiordiligi and Dorabella, that he can get the women to cheat the minute they think the men are out of town. Outraged, the men accept the challenge and so begins a charade in which the men pretend to go to war but instead disguise themselves and begin ardently pursuing the sisters. When, after many failed attempts (though only a day since the men went to war), the interlopers finally win the sisters over, the game is up and everyone is wiser if not happier.
The hijinks are set almost exclusively within the walls of the sisters' minimalist boudoir, a room suggesting the grand spaces of their wealth without the distraction of its baubles, and other than the colorful characters, there is little to draw the eye — no art, no books. Despite costumes and attempts to "act modern" almost too geeky to suggest parody, we nevertheless know what Miller is getting at: These women are rich, spoiled and, in the adapted words of their PA Despina, "airheads." And, whether one sees it as antithesis or modern equivalent, the contrast between these two tweet-culture gals and the wigs, fans and simpering of a traditional production is worthy of another, perhaps more thoughtful, giggle. The bottom line is we are never going to get anywhere near as heavily invested in these two as we are in the music.
As Fiordiligi, the sister most pricked by her conscience and thus the purveyor of the more beautifully mournful of Mozart's arias, Elizabeth Futral is an interesting mix. Spunky, confident, and offering great comic timing, she grabs the eye and knows what to do with it. Yet, at times, the necessities required to keep Miller's mood afloat argues with the music. Futral pulls it off, but it isn't easy to capture the depth of Fiordiligi's regret whilst garbed in Neiman Marcus' idea of casual-wear or your mother-in-law's idea of a biker-chick outfit. A strong, agile soprano with gorgeous tone, Futral delivers her Mozart with gratifying precision and much expression. Perhaps, in the special moments, 'tis better to shut one's eyes.
As the more wayward sister Dorabella, mezzo-soprano Renata Pokupic has much presence, even as she allows for Futral's star-shine, though her '80s-esque outfits are almost as distracting as they are amusing. Pokupic delivers some sweet sound with mellow fullness, but at times she almost seems to strain slightly through this softness. As the long-suffering Despina, soprano Christine Brandes brings an interestingly butch style to her ever-pragmatic and ironic PA and some equally clear-edged, if not always even, singing.
COSI FAN TUTTE




To March 15
Kennedy Center
Opera House
$25-$300
202-467-4600
kennedy-center.org
Ferrando and Guglielmo spend most of their time in disguise as their own rivals and make the most of the sheer silliness of their The Party Store biker personas. Each man goes so heartily for the other's betrothed in their bid to test fidelity it's hard to believe they are any more faithful than their would-be wives. As Ferrando, tenor Joel Prieto offers a lot of boyish charm, so much so he comes across as quite a bit younger than either sister. A surprisingly large tenor from such a lithe figure, Prieto has a pleasingly noble, tensile sound even if it is not always smooth. As Guglielmo, baritone Teddy Tahu Rhodes cuts an impressive figure and makes for some of the better comic moments. With his rich, resonant voice, he anchors the music well, even if he could stand to be a touch more expressive.
Drawing out the more sophisticated moments of the evening, comic and otherwise, William Shimell gives his Don Alfonso a cell-phone wielding believability while bringing a certain old-school operatic gravitas to his cynic. Alfonso starts the mad ball rolling but he also brings it all back to his original point — which in the words of Little Richard — is really nothing more than: "the girl can't help it."
Playing at the Kennedy Center Opera House March 2, 4, 7, 10, 12 and 15, 2012.