Once you see it, you can't un-see it.
That's the parting message of Carrie. Unfortunately, there isn't much to see or un-see at the Lucille Lortel Theatre in New York's West Village, where the stage version based on the hit 1976 Stephen King movie has been revived.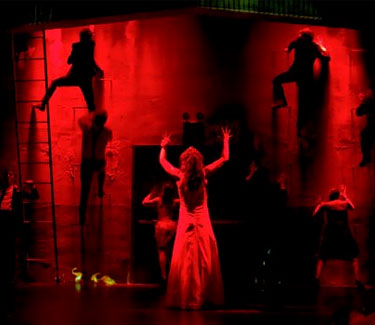 "Carrie"
As it is, you can't help but feel cheated by what they decided to show – and more to the point, not show.
There's no nudity in the new Carrie – not in the famous girl's locker room scene when the title character has her first period; not even when school jock Billy Nolan (a convincing Ben Thompson) moons his detractors, facing the audience. The big hunk with the bodacious body merely goes through the motions of pulling down his pants. Heck, viewers don't even get the movie's simulated blowjob by Billy's girlfriend, Chris Hargensen – the class Mean Girl played, rather unconvincingly, by Jeanna de Waal.
You also don't see the pig's blood – or the stage equivalent – coating Carrie in the show's climactic scene, when Billy and Chris set up a contraption dumping a bucket of blood on Carrie. Instead, we get dizzying red-colored special effects (courtesy of Matthew Holtzclaw) as Carrie's telekinetic powers spiral out of control and she burns down her school and kills off her classmates by thrashing them all about, thanks to some amusing choreography from Matt Williams. After that scene, Carrie simply crawls back on stage, dripping in red ink applied backstage.
Carrie is a pretty much by-the-numbers musical, one that loses all of the film's hormonal horror – which was by design. Show creators Michael Gore, Dean Pitchford and Lawrence D. Cohen went out of their way to make this revival middling fare, an attempt to salvage what has been called the most spectacular flop in Broadway history. (After a torrent of bad reviews, the original 1988 Broadway production ran for only 5 performances, at a loss of $8 million.)
Shows that come with built-in recognition, such as one based on a hit movie – or a buzzed-about revival – only really flop if they're too ambitious. The original played up the story's camp value of sex and gore, in a way that was obviously too much, at least for its time. By contrast, this MCC Theater production, directed by Stafford Arima, is stripped of camp value. It's essentially bland, decidedly unambitious and only mildly provocative, mostly in its zeitgeist nod to the dangers of bullying. As such, it's all-but guaranteed to survive a short run at its small Off-Broadway theater. And on Saturday, it was announced the show's planned run to April 22 was abbreviated. The show now will close early on April 8, after 34 previews and 46 regular performances, so you'd best hurry if you're eager to see it.
And, really, there are only two reasons to be even remotely eager to see Carrie: Marin Mazzie as Margaret White and Molly Ranson as her daughter with the special powers. Ranson, who has made previous Broadway shows (Jerusalem, American Idiot) better than they might have been without her as a compelling supporting actor, does it again here, in the title role. She downplays the discovery of Carrie's telekinetic powers to help ensure the audience sympathizes with her throughout. You never entirely blame Carrie, either: the world is out to get her, and the extreme revenge she exacts is otherworldly. It's beyond her control.
Mazzie plays Margaret as a maniacal mother, but not one without reason. Mazzie justifies her character's actions most effectively in "When There's No One," and her fiery delivery of this showstopping ballad just might melt your heart. Margaret is over-zealous in raising Carrie, she explains, because she doesn't want her daughter to be wronged by life and by men the way she has been. "Everyone isn't bad, momma. Everything isn't a sin!" Carrie argues. "They're all gonna laugh at you," Margaret responds.
CARRIE


Lucille Lortel Theatre
121 Christopher St.
New York
Tickets are $20 to $149
212-352-3101
www.mcctheater.org
Closing April 8
Margaret suffers from a particularly religious strain of internalized misogyny – "And Eve Was Weak," as one number puts it – which stunts Carrie's growth and ensures that the worst will happen, by not making her strong with knowledge and self-awareness.
But like so much else, that feminist insight is merely suggested. It shadows an otherwise simple, straightforward story about how cruel kids can be, along with the value of being true to oneself and respectful of others. You'll probably leave feeling puzzled about why they even bothered reviving the show, especially since you won't leave marveling the show's merely serviceable tunes. Composer Gore and lyricist Pitchford teamed up for Carrie after working on the 1980 movie Fame, producing music with a similarly dated vibe.
These tunes are not gonna live forever.