"I played Harold Hill in high school," laughs Parker Esse, when asked how familiar he is with The Music Man.
Of course, his starring role at his Houston performing arts school "was a far cry" from Arena Stage, where he's choreographed a new production of Meredith Wilson's classic musical.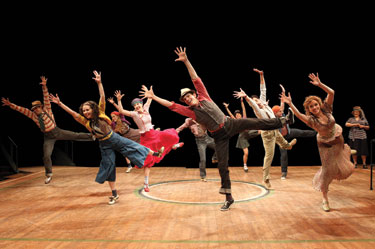 The Music Man
(Photo by Joan Marcus)
The Music Man is the fourth show Esse has choreographed for director Molly Smith at Arena Stage, and the most recent since he won the Helen Hayes Award for his work on Oklahoma! Esse, who lives in Connecticut with his wife and young son, also worked as an associate choreographer on the Kennedy Center's Tony-nominated revival of Follies.
He sees his role to be integral to any musical's story. "I read the script over and over again just to make sure that my choreography is always furthering the plot," he explains. "You [should] never feel like you're stepping away from the production to watch dance movement."
In the case of The Music Man, much of the choreographed movement at, least indirectly, shows the influence of Hill, the traveling salesman from Gary, Indiana. The show's River City, Iowa, was "devoid of art completely before Harold Hill comes to town," Esse says. "I wanted to show he affected them in many ways, not just with forming a boys' band, but also encouraging them to dance."
As a result, the first time we see anyone truly dance in Arena's The Music Man – during the song "76 Trombones" – "it's not a completely polished look. [But] as the number progresses, [the dancing boys] get more confident in expressing themselves through dance, and the steps become a little bit more refined."
Eventually, everyone in River City has gotten what you might call the dancing jitterbug. "By the time we get to 'Shipoopi' in act two," he says, "the entire community has come together, and they want to dance as a group."
The Music Man runs to July 22 at the Mead Center for American Theater, 1101 6th St. SW. Tickets are $51 to $66. Call 202-488-3300 or visit arenastage.org.
[Also, read Jonathan Padget's review of The Music Man.]