They're no Ginger Rogers and Fred Astaire, but Kelli O'Hara and Matthew Broderick make quite the dancing pair in the new Broadway musical Nice Work If You Can Get It. In fact, the charming O'Hara, with her pristine soprano, sounds eerily like Doris Day. Even when playing a tomboyish bootlegger during Prohibition, O'Hara very well could be the new girl next door.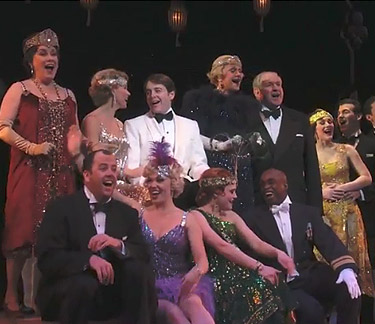 Nice Work if You Can Get It: Matthew Broderick (center)
There's very little that anyone could find objectionable in Nice Work – unless you object to a show with no real edge, or one with nothing new to say. The show, which hauled in a season best 10 Tony nominations, including Best Musical, is only really "new" in the sense that it's not technically a revival. Joe DiPietro (Memphis) created a new book, but one that was "inspired" by earlier musicals from 90 years ago by Guy Bolton and P.G. Wodehouse. The story focuses on an oft-married wealthy playboy, played woodenly by Broderick, who doesn't have to work but needs to settle down before he can inherit his fortune. His latest fiancé is yet another dud – though actress Jennifer Laura Thompson in the role is anything but. By chance of a drunken encounter and a comedy of errors he ends up fancying O'Hara's character instead, and they realize they were meant to be, despite all odds. Before we get to happily ever after, though, we're regaled by the incredible supporting cast director/choreographer Kathleen Marshall has assembled. Chris Sullivan and especially Michael McGrath as O'Hara's bootleggers-in-crime are a slapstick riot. And Judy Kaye steals the show as the wonderfully named uptight teetotaler Duchess Estonia Dulworth, president of the Society of Dry Women, who eventually falls off the wagon – and swings from a dining room chandelier – to the betterment of all.
Did I mention the shopworn story is built around pop standards and other tunes by George and Ira Gershwin? Think "Someone To Watch Over Me," "Let's Call The Whole Thing Off," "Fascinating Rhythm" and "Lady Be Good" – all played by a 17-piece orchestra. Yep, chalk Nice Work up as the latest incarnation of the jukebox musical. We've moved from shows built around pop and rock songs from the latter half of the 20th Century (Mamma Mia, Rock of Ages, Jersey Boys) to those from nearly a century ago, or those considered part of the Great American Songbook.
NICE WORK IF YOU CAN GET IT




Imperial Theatre
249 West 49th St.
New York
Tickets are $46.50 to $250
212-239-6200
www.telecharge.com
It just doesn't get much closer to a sure-fire hit than this. Especially considering that no expense was spared. Nice Work is a sumptuous musical, featuring nine distinct scenes, most set at a Long Island beach-house mansion, stunningly realized by Derek McLane.
The closest thing to edge with the show occurred a couple years ago, when Harry Connick Jr. bowed out after a feud with Marshall. Broderick seems out of place in his stead, moving with less grace and singing with less precision than anyone else in the cast, and just seeming uninterested in the character. No wonder the Tonys snubbed him.