Jonathan Bardzik photographed at Eastern Market by Todd Franson, on March 31
Maybe you've heard that tired complaint about the word "gay" being "corrupted." If anything, Jonathan Bardzik has reclaimed it. There's that winning smile, gregarious nature, the unmistakable joie de vivre. Bardzik is definitely gay. Of course, he also digs dudes – particularly his husband.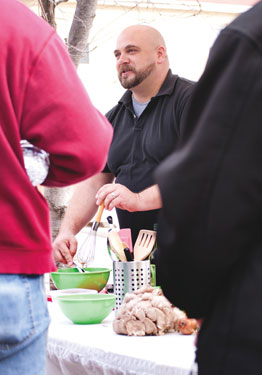 Jonathan Bardzik
(Photo by Todd Franson)
That gaiety may have fueled a new chapter in Bardzik's life.
"A year ago, life was great," says Bardzik, 38. "I was married, celebrating our second anniversary. I loved my job. I loved living in Washington, D.C.
"Life was just fantastic, and I happened to run into a personal-professional coach at one of the events our association put on and said, 'Hey, life's good. I'd love to talk to you about where I'm heading from here.' Through those conversations, he sort of came up with a profile he thought was going to satisfy me."
The "association" refers to Bardzik's day job, director of marketing and industry relations for the American Nursery and Landscape Association. The idea that coach sparked was one of Bardzik exploring his passion for cooking, particularly for an audience. He took the idea to his brother, a fellow D.C. resident, who lives across the street from Eastern Market. Bardzik, living on Capitol Hill at the time and an Eastern Market regular, figured the city-owned market could use a demonstration chef to help shoppers unlock the potential of all that fresh, seasonal produce. But he still needed a push.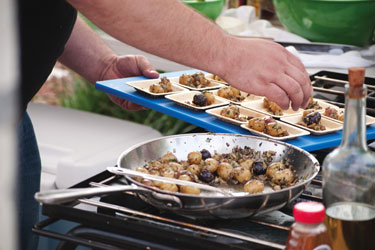 "Sitting with my brother one night, I'm trying to explain to him what this profile of job satisfaction looks like," Bardzik recalls. "He's not getting it. I said, 'I've always had this idea of someone at Eastern Market on the weekends telling people how to prepare these foods. They would discover a lot of foods they didn't know before and have a lot more fun in the kitchen.' And my brother said, 'So why aren't you doing that?' When I finally ran out of excuses, I started talking to the market."
Contacting the market was the first step of many. Bardzik needed the market's board to support the idea of a chef demonstrating the market's goods. He needed to navigate the bureaucratic steps of securing a food-handler's license, getting cleared to operate propane tanks, and the like. A novice to the process, Bardzik says that while city employees were friendly and helpful, getting cleared for cooking-demo takeoff was "hugely intimidating." But he made it. It was time to get vendors on his team.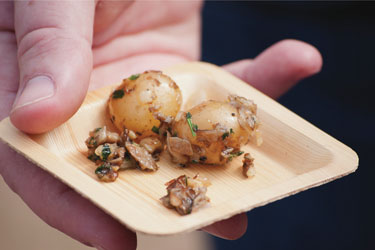 "When I first started talking to them in March of last year, they looked at me a little cross-eyed," Bardzik says with a chuckle. "I think they were trying to figure out, 'Why does this guy, who does not have a professional culinary career, want to spend his Saturday mornings cooking food for free? What's the angle? What's going on?'"
But the vendors quickly came around to Bardik's point of view and jumped on board. Says Bardik: "Now I have access to a great range of produce. We talk a week or two ahead, as new crops are coming on during the season. I'll study those ingredients, go through dishes I've cooked with them, and prepare recipes for the market."
Bardzik might whip up a pumpkin soup. Perhaps he'll show his Eastern Market audiences his secrets for a perfect and simple vinaigrette. "I'm really just trying to help people have a better experience in their home kitchen, serving food to themselves and their families and their friends," says Bardzik. "I have spent a lot of time in the kitchen, and I do have some things to share. And now having spent 20 weekends out in front of an audience, I've certainly built up some confidence. But there's always a lot to learn."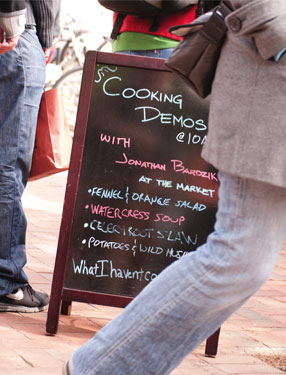 "I would love to see this grow into a full career," he continues, "something I can really dedicate myself to full time. I have a lot of ideas. If you had said to me a year ago, 'You're going to be going out to the market on weekends, have a couple of corporate events,' that would've seemed amazing. I'm open to this becoming anything."
Whatever it becomes, there's no doubt Bardzik will be having a gay ol' time.
In season, Bardzik offers cooking demonstrations at Eastern Market, 225 7th St. SE, on Saturdays, 10 a.m. to 1 p.m. For more, visit whatihaventcookedyet/wordpress.com.
EDITOR'S NOTE: Writer Will O'Bryan's husband has served as Bardzik's real estate agent.