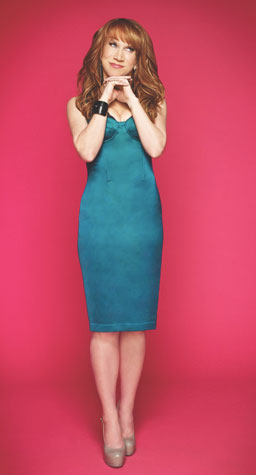 Kathy Griffin
(Photo by Mike Ruiz/Bravo)
There's never been a sitting president who has even seen the LGBT community like this. Never. It's huge. It's fucking huge.
So I get mad at my young gays that don't know what Stonewall is. I get mad at my young girls that don't know who Gloria Steinem is. And I get mad at my own Democrats or centrists or liberal-leaning people that are acting like, "I don't know if I'm gonna vote for the president. What's the point?" Really? Well, get ready for President Romney and Vice President Bachmann.
MW: You're going to be the cover of our Pride issue. So I want to ask, what makes Kathy Griffin proud?
GRIFFIN: What makes me proud of the LGBT community is – as I stated earlier – the way this community has come together. I joke about adding the "QIA." I don't care how many fuckin' letters you guys have. The point is you're coming together. You're working together.
I have gone to countless community centers where they're reaching out to gay youth. I find that people are coming out younger and younger – and that is significant. That's very different from when I started my career and was meeting guys who were married with three kids sobbing, "What am I going to do? What am I gonna do?" I think the way you guys keep working together, keep strategizing, is what I'm so proud of.
I'm so proud of this community for being smart, getting together, mobilizing, putting yourselves on the 24-hour news cycle, getting pundits out there, being diverse. You've got your Andrew Sullivan, and then you've got your – you know, me – I'm on the other end of the political spectrum from Andrew. But I think it's great.
And every year it gets better. Every year – oh, God, I just quoted the "It Gets Better" campaign, which is great!
You have Harvey Weinstein writing me a letter, who I don't even fuckin' know, saying, "Please help with this movie, Bully. I know this is your community. I know that you have no stake in this movie at all but please help me reach your people."
MW: So how do you feel about being considered part of our community, being one of us?
GRIFFIN: Proud! Proud! Proud! Where would I be without my gays, my unshockable gays? You fuckers will laugh at anything. That is why gay audiences are the best. Because what the fuck am I gonna say onstage that's more shocking than anything you've heard in your real life? And let me tell you, behind closed doors when my gays come over, it's fucking "go" time. It is politically incorrect, it is raw, it is all wrong and we laugh our fucking asses off. Because you gotta laugh. You gotta laugh, no matter what. Whether it's appropriate or inappropriate, you gotta laugh. It's the universal gay language. Well, that, and Lady Gaga.
Kathy Griffin will appear in D.C. at D.A.R. Constitution Hall Friday, Oct. 19. Tickets go on sale Friday, June 15. Call 1-800-745-3000 or visit livenation.com.
Her new talk show, Kathy, airs Thursdays at 10 p.m. on Bravo. Visit kathygriffin.net.
Check out these videos of Kathy Griffin's D.C. rally to repeal "Don't Ask, Don't Tell" in 2010.