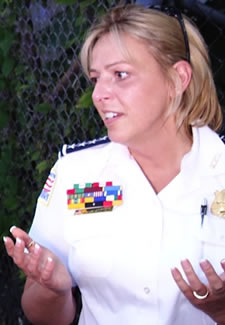 DC Police Chief Cathy Lanier
(Photo by Todd Franson)
In an action organized by LGBT activists Amy Loudermilk and Nick T. McCoy, more than 60 concerned residents converged at Big Bear Cafe in the District's Bloomingdale neighborhood the evening of Aug. 9 to rally against recent violent attacks appearing to be hate crimes.
Organizers led a march through the Bloomingdale and Eckington neighborhoods and had a "moment of noise" at the spot where two gay men were attacked in a suspected hate crime July 22.
Accompanied by Metropolitan Police Department officers, including Chief Cathy Lanier; Councilmembers Kenyan McDuffie (D-Ward 5) and Vincent Orange (D-At Large); and local civic association leaders, the marchers reaffirmed their opposition to violence and talked of reaching out to their neighbors to combat ignorance and hatred and build stronger communities, particularly in newly gentrifying parts of the city.