Republican vice presidential candidate Paul Ryan said those still wishing to overturn the repeal of "Don't Ask, Don't Tell" need to "move on" in an interview that aired Sunday.
During an appearance with WPTV, a local television station in Miami, the Wisconsin representative said attempts to reinstate the ban on out gay servicemembers would be a mistake.
"Now that it's done, we should not reverse it," Ryan said. "I think that would be a step in the wrong direction, because people have already disclosed themselves."
Ryan's view that the repeal of DADT, which marked its one-year anniversary Sept. 20, should remain largely mirrors the position of Republican presidential candidate Mitt Romney, although Romney has been less declarative in his assessment.
In December 2011, Romney told the editorial board of The Des Moines Register, "I'm not planning on reversing [the repeal] at this stage."
Despite assessments by the Defense Department and an academic study by the Palm Center that all agree the repeal of DADT has had zero negative impact on the military, some Republicans on Capitol Hill continue to rail against the repeal one year later.
In July, Rep. Steve King (R-Iowa) sought to ban same-sex weddings on military bases, arguing that Obama was violating the Defense of Marriage Act by allowing military chaplains to perform such weddings at military installations. On Sept. 11, Republican Sens. Jim Inhofe (Okla.) and Rodger Wicker (Miss.) introduced legislation that would ban same-sex weddings on military bases.
Although Ryan was one of 160 Republicans and 15 Democrats to vote against the repeal, he said he has no plans to reverse that decision.
"I think this issue is past us. It's done. And I think we need to move on," Ryan said.
One key Republican figure who has remained silent on the anniversary of the repeal of DADT is Sen. John McCain.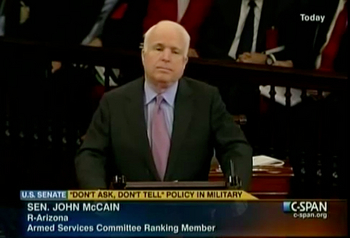 The Arizona Republican and former prisoner of war was one of the discriminatory ban's fiercest defenders. In December 2010, when the repeal was before the Senate for a final vote that seemed all but assured to pass, McCain declared it to be a "very sad day."
"I hope that when we pass this legislation that we will understand that we are doing great damage," a visibly indignant McCain told the chamber, adding that there would be "high-fives over all the liberal bastions of America" after the repeal's passage.
Three years earlier while running for president, McCain had said he would be in favor of ending the ban if top military leaders thought the time was right. With nearly all top military brass advising that the time had come to end DADT, McCain's last stand on the Senate floor was considered by many in the gay community to be the height of hypocrisy.
One year after the repeal's implementation and nearly two year's after his speech to the Senate, McCain has issued no comment on the implementation of the repeal or indicated whether he would support its reversal.
Metro Weekly made numerous attempts to ask McCain whether he thinks the repeal has harmed the military and to assess its implementation, with no response from McCain's office.