"I remember listening to Janis Joplin's Cheap Thrills album, and listening to [her cover of] 'Summertime' over and over and over again — it just rocked my head," Randy Johnson says.
He was 5 at the time.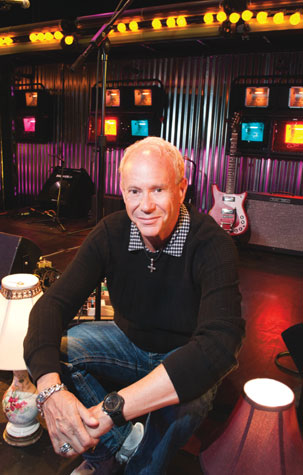 Randy Johnson: "One Night with Janis Joplin" at Areana Stage
(Photo by Todd Franson)
All these decades later, when the Joplin family asked him to create a show in tribute, Johnson jumped at the chance to relive those days.
The result is One Night with Janis Joplin, now at Arena Stage. It's essentially the "electrifying" Joplin dream concert Johnson – and the majority of her fans – never got to see, since Joplin died of a heroin overdose in 1970 at the age of 27.
"[It's] as if Janis had returned to earth and was going back out on tour," Johnson says, explaining the show's concept. "And it's one night with Janis Joplin, where she had the chance to tell her story, tell her influences, her philosophy, share her art." Ultimately, it's not that different from many of Joplin's still-living peers on nostalgia-steeped tours today – except that Joplin isn't played as the aging baby boomer she would have been, but as a woman still very much in her prime.
Mary Bridget Davies portrays the legend. "[When] she opened her mouth to sing, the entire table fell off their chairs," Johnson says. A blues singer in her own right, Davies was born in the decade after Joplin died and has performed as Joplin for years now. She was in the show Love, Janis and has repeatedly toured the world with Joplin's band Big Brother and the Holding Company, whom Davies lovingly refers to as her "rock and roll uncles."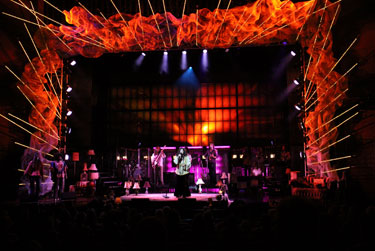 "There's something for everyone in the show," Davies says. "Even if you don't particularly care for [Joplin's] singing voice, the story is funny. She had a very wry sense of humor."
Davies isn't the only powerhouse vocalist onstage. "I had the idea of this 'Blues Singer' [who] would embody all of Janis's influences," says Johnson, laughing, "It really became her alter ego. Her inner black woman, so to speak." Throughout the show, opera singer Sabrina Elayne Carten embodies everyone from Bessie Smith to Nina Simone to Aretha Franklin – not to mention Leontyne Price.
The Joplin estate hired Johnson because of his successful pedigree in creating concert-style tributes. He's written or produced shows about Patsy Cline, Conway Twitty and Elvis Presley. He's also worked directing or producing concerts and plays with everyone from Barbra Streisand to Audrey Hepburn, Liza Minnelli to Pope Benedict XVI.
"[Johnson's] just that type of director where you know that he is larger than life, with all the accomplishments he's had. But he's still accessible on a personal – and a human – level," says Davies. "He's given me a lot of freedom in this role because he wants to show that Janis's main mantra was, 'Be true to yourself and don't compromise yourself."'