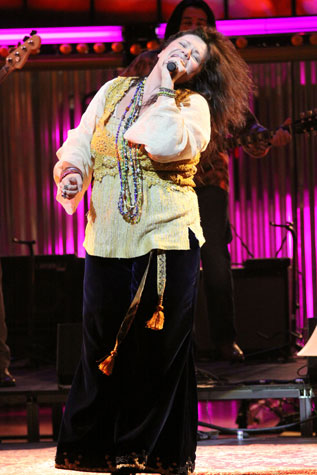 I really want the audiences to fall in love with Janis the way that I fell in love with Janis. Actually, her philosophy is pretty much concurrent with the philosophy of this generation, this time now, which is very basic: Simply tell the truth, be who you are. She was honest enough to talk about these influences.
And the other thing that is important to me is that we're all influenced by people. Whether it's music or writers or poets – none of us got to be who we are because we simply came out of an egg. Influences are very important.
MW: So you were inspired by these legends to get into show business?
JOHNSON: I was a very shy kid, so I spent time in music a lot. I actually listened to Mahalia Jackson, that was another album that I listened to. I listened to Joni Mitchell a lot. I grew up in the world of thinking musical artists. At the same time, I grew up in the world of theater. My parents actually took me to a lot of theater when I was a kid. So I became an actor. I didn't really come out of my shell until I discovered that I could actually speak onstage.
MW: When was that?
JOHNSON: It was in 10th grade. I went from not really talking to anybody, except for a couple of people, to all of a sudden coming out of my shell.
MW: In what show?
JOHNSON: Oh, it was this show called Who Was That Lady I Saw You With? It was a terrible show. It's one of those high school things that they pick. But I found out that I was funny, and I found out that I had comic timing, and then the next show I did I found out I could sing. And so I ended up at USC and got a degree in theater. I did a couple of TV shows, danced in some movies. I hated auditioning. Despised it. And so I started producing shows that I wanted to be in. But in the middle of all of that I moved to New York to be an actor/dancer – and ended up partying the entire year and not really doing anything else.
MW: When was this?
JOHNSON: In the '80s. It was when New York was really wild. I had a blast. It lasted about a year. When summer hit and I had no air-conditioning in my apartment in Times Square it was time to come back to California.
MW: You lived in the old, pre-Disneyfied Times Square? JOHNSON: Yeah. It was when it was really nasty. I paid $300 a month for an apartment. I took dance classes, and I kind of did the thing. But I was still in the process of reinventing myself, figuring out what I wanted to do with the rest of my life – but all I really wanted to do was party.
MW: How old were you at the time?
JOHNSON: Right out of college.
And then I came back to California and everything gelled. I was producing The Rocky Horror Show, and I got a call that Richard Dreyfuss wanted to do The Normal Heart. The producer couldn't do it, and would I like to do it, to produce it? I had no idea what The Normal Heart was. It had just opened at The Public Theater [off-Broadway], and I said yes. I've always said yes. Figured, why not?
I read the script. It was a period when AIDS was so raw. We all had AIDS anxiety – but you didn't know what it was. I had to take a walk for four hours after I read the script. I was like, "What have I gotten into?" We ended up with Kathy Bates and Richard Dreyfuss and Bruce Davison. And Larry Kramer was with us. It was the most extraordinary experience, because at the time there were protests outside the theater.
MW: Anti-gay protests?
JOHNSON: That was a very hateful time. It was a very scary time. ABC did town halls from the theater to discuss it, but no one knew what it was. People thought you got it from dogs, because gay men have so many dogs. People — because it was Richard — thought it was a Neil Simon play. And they would want their money back because they were so offended by the show. We were living right in the middle of the holocaust of that time. But I learned a lot about myself and what theater could do.
It really changed my life. I realized that you could actually make a difference with theater. It's certainly not where I'm at now. But I feel like I started this chapter of my life with a very substantial anchor. And we made a difference. And I realized that no matter what, you have to make a difference. I can never go back to Pippin. [Laughs.]
MW: When did you come out?
JOHNSON: I was never in. [Laughs.]
MW: So you came from a supportive family where it wasn't an issue?
JOHNSON: It wasn't discussed. That was never an issue for me, even as a little kid. I mean, I knew who I was. I moved out of home into living with my first partner at 18 years old. It wasn't like the dinosaur in the living room that nobody talked about. They were just doing their own thing.
I had to go to other rooms in Hotel Crazy, but my sexuality wasn't one of 'em. [Laughs.]
MW: "Hotel Crazy," that term is used in the show. Is that from Joplin?
JOHNSON: No, that's mine.
MW: And that's going to factor into the title of your autobiography, Adventures in Hotel Crazy.
JOHNSON: It just came to me one day. I was with some friends and I was like, they have checked into Hotel Crazy and they don't have a room key out. It's just been one of my favorite phrases, because it's so accurate. [Laughs.]
MW: What inspired you to write an autobiography?
JOHNSON: People have told me for a long time to write one. I felt like, I'm just going to tell a story about a bunch of famous people I've worked with, and that was not interesting to me at all. I realized that I could actually put my own philosophy into a book and how I experience things. Not the experience of doing shows or working with famous people, but how you get there.
That epiphany came when my parents were both in their final chapter. I took a year off to help take care of them. When your parents are passing – and they both went through it at the same time – you really have to come to terms with a lot of stuff.
Now, what's interesting, I was at lunch with my mother and father just before they got sick, with my partner, and the waitress said, "You've got a couple of good-looking sons." And my father said, "Well, one's my son, but they're married and I'm happy about it." And it was the first time he ever just said…
MW: He acknowledged it.
JOHNSON: He acknowledged it. And it was one of those moments. My jaw dropped and I kind of teared-up. And I thought, we've come a long way. That was the most we ever talked about it. But that was a gentle acceptance, instead of me trying to hammer their heads and all that. It was just a gentle acceptance.
MW: How far along are you in writing the autobiography?
JOHNSON: I'm almost done. I'm writing the chapter of this show, of my experience of this. Of actually really seeing your vision come to life, and really seeing another dream come true. I mean, I've had a lot of dreams come true. Every artist that I loved as a teenager – from Joni Mitchell, Carly Simon, Barbra Streisand, Elvis, Laura Nero – I worked with all of them. And I know that I'm very fortunate, but if it can happen to me it can happen to anybody. And that's the point of my book.
My basic philosophy is Janis's basic philosophy: Tell the truth, live for now and simply be yourself. Don't bullshit anybody, don't bullshit yourself. I love people who say, "I've been lying to myself." That's the one thing that physics prevents. Because you know you're telling a lie. I've watched friends of mine go through a lot of stuff. Especially the ones in the generation where it was really hard to come to terms with your sexuality. If you're not comfortable with your own sexuality, you're not going to be comfortable with anything in your life, because until you can tell the truth it affects every aspect of your being. You can't write your best music, you can't write your best play, you can't live your best self. So you simply have to tell the truth.
The hardest thing to get to is to a simple place, you know? I had cancer at 18. Thyroid cancer. I've had challenges. But I always knew that there was something – I always thought, this is just a chapter, I'm going to get through this. And keep on going. And I always have. Even when I broke up with my ex and had a terrible time, I just turned it into another chapter along the way and didn't stay in self-pity.