UPDATE (Wed., Nov. 14, 1:35 pm): Despite President Obama's press conference cutting into the East Coast broadcast, Will and Sonny did have their big moment today. 
After the tasteful, non-explicit event, the pair of new lovers cuddled (under carefully placed bedsheets), kissed, held hands, and spoke quietly about how "perfect" the sex was.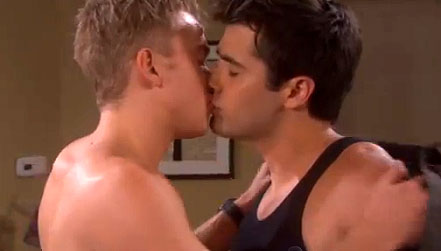 That moment echoed, perhaps purposefully, a conversation Will had last year with his ex-girlfriend, Gabi. After they had sex for the first time, she said it was "perfect," too.
Will's most recent sexual encounter with Gabi occurred just a couple of months ago, and that act played a big part in this storyline's dramatic twist. She fainted during yesterday's episode, and later was shocked to discover that she was pregnant. Guess who the daddy is…!
Some long-time fans of "Days" expressed dismay at having to watch the show's gay storyline. Calling Will and Sonny's kissing and cuddling "repulsive" and "disgusting," they proclaimed that they would no longer watch the show. To those fans, it was just fine to watch Will have sex on mid-day TV with a girlfriend, but watching him have sex with a boyfriend has been objectionable.
Actor Freddie Smith told On Air with Douglas what he thought about the love story's critics:
"People are entitled to their opinions…. We're doing it for the people who want to watch, who are open minded. And people who don't like it — it's kind of their thing. We can't preach to them. There's really nothing to say. It's their opinion and I feel sorry that they're not as open minded. But we're doing the best that we can for people who are enjoying the storyline. After a while, I don't think there will be as much hate. It's gradually getting less and less, and I think that's what's important. It's going to take time, but we're moving forward, and we are making a difference."
Catch a repost of this episode later tonight on NBC's website.
ORIGINAL POST (Mon., Nov. 12, 12:34 pm):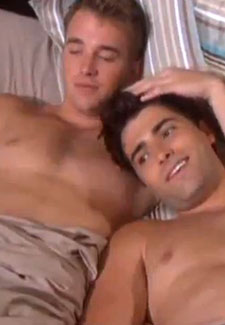 NBC is currently running promos for a "Days of Our Lives" storyline which will feature two gay men in a sex scene. The characters, Will and Sonny (played by Chandler Massey and Freddie Smith) can be seen shirtless and kissing in bed,
This latest gay soap couple almost had sex a few episodes ago, but Will's father, Lucas (played by Bryan Dattilo), angrily interrupted them in bed. After Will left the scene, Lucas confronted Sonny about pushing his son too fast.
"He is having trouble. He's struggling to accept who he is…. This isn't about me. This isn't my fault. I told you guys from the very beginning, 'I was okay with it. I have no problem with you guys going out.' … He's not ready for this, Sonny!"
Chandler Massey, who won a 2012 Daytime Emmy for his role, recently talked to TV Guide about his TV father's behavior:
"I know a lot of dads who are like Lucas, They're not homophobic per se, or against gay marriage, but they're uncomfortable being in close contact with anything gay, especially when it involves their son. It's all okay in theory but they don't want to deal with the reality."
The couple's moment of intimacy is reportedly going to air on Wednesday, November 14, many months after Will came out.
Check out these build-up and preview videos: