Pittsburgh native Bryce Caine won the Mr. Mid-Atlantic Leather 2013 contest Jan. 13, held as part of the Centaur Motorcycle Club's 29th Leather Weekend, a three-day event based at the Hyatt Regency Washington on Capitol Hill.
"I've been in the leather community for years, and I would like to think it was my experience and my maturity [that appealed to the judges]," Caine said immediately after winning and posing for pictures in his new sash. The "40ish"-year-old Caine is an electronics-engineering technician who first competed in a leather contest 10 years ago while recovering from brain surgery. He beat out first runner-up Josh Pennington, the reigning Mr. Double L Leather; and second runner-up Kj Nichols, Mr. CT Leather 2013. Caine will go on to represent the Centaurs at leather events around the world, including competing at the biggest, Chicago's International Mr. Leather, in May.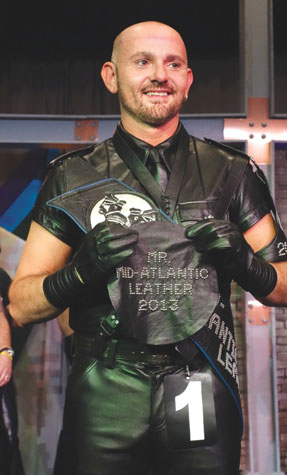 Bryce Caine: Mid-Atlantic Leather 2013
(Photo by Todd Franson)
"I would really like to use this year," Caine says, "to encourage members of the leather community … to recommit to it, to reinvent themselves … and to help build a stronger leather community within regional communities."
Caine is now the third Mr. Pittsburgh Leather Fetish titleholder in a row to win at MAL, following in the boots of 2011's Doug Pamplin and 2012's Matthew Bronson, one of the seven judges this year. Also judging was Mr. IML 2012 Woody Woodruff, who helped kick off the contest by singing in fine form a moving Garth Brooks ballad.
But leave it to D.C. drag doyenne Ella Fitzgerald to steal the show. Fitzgerald was a surprise performer as part of the 20th anniversary celebration of Mr. MAL 1993, perennial contest emcee Frank Nowicki. "Miss Ella doesn't get up there and paint her face on a Sunday for [just] anybody," avers Patrick Grady, chair of the MAL weekend. But Fitzgerald was happy to toast an old friend and fellow showboat from the early days of the gay-rights movement in D.C.
When reached Monday evening, Grady reported no major problems or incidents over the weekend, moved from the usual three-day Martin Luther King Jr. holiday weekend to avoid Inauguration Day complications. If anything, the attenuated weekend meant weekend-goers, several thousands strong, packed in as much of the action as they could Friday night and all day Saturday. The host hotel lobby and bar area were often crowded near capacity during prime hours, and Grady says they had to stop selling day tickets to the Exhibit Hall Saturday afternoon after hitting capacity.
"It was just crowded all over," said Grady.