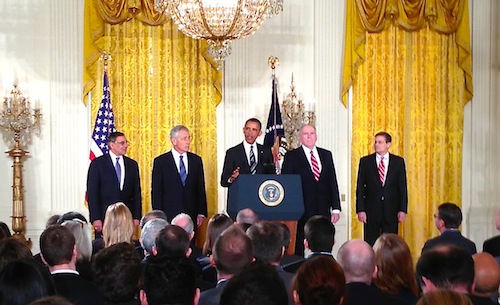 President Barack Obama formally nominated former Sen. Chuck Hagel as secretary of defense Monday, leaving advocates cautious and curious about the Nebraska Republican's views on a number of LGBT issues that continue to face the military.
During a nomination ceremony in the East Room of the White House for Hagel, and John Brennan as CIA director, Obama and Hagel made little mention of the controversy that has surrounded Hagel in the weeks since it was first reported he was at the top of Obama's list to replace Leon Panetta as head of the Pentagon. Describing him as the "leader that our troops deserve," Obama said there is still much to do to protect the nation, including ensuring "our men and women in uniform can serve the country they love, no matter who they love."
Hagel's nomination comes after weeks of speculation and controversy surrounding comments and positions Hagel took during his years in the U.S. Senate. Criticized by the right for his stances on Israel and Iran, Hagel also faced criticism from LGBT-rights advocates for anti-gay positions, including comments made in 1998 criticizing President Bill Clinton's appointment of James Hormel as ambassador to Luxembourg because he is gay.
"They are representing America," Hagel told The Omaha World-Herald in 1998, describing ambassadorial posts as sensitive. "They are representing our lifestyle, our values, our standards. And I think it is an inhibiting factor to be gay — openly aggressively gay like Mr. Hormel — to do an effective job."
Facing the ire of LGBT-rights activists, Hagel apologized for those remarks and affirmed his commitment to open service and LGBT military families despite voicing his opposition to repealing "Don't Ask, Don't Tell" in 1999, then stating, "The U.S. armed forces aren't some social experiment."
"My comments 14 years ago in 1998 were insensitive," Hagel said in a statement released Dec. 21, 2012. "They do not reflect my views or the totality of my public record, and I apologize to Ambassador Hormel and any LGBT Americans who may question my commitment to their civil rights. I am fully supportive of 'open service' and committed to LGBT military families."
Although Hagel earned a reputation as an independent after becoming one of the most vocal Republican defectors to criticize President George W. Bush for the war in Iraq, his record on LGBT rights as a senator was in line with some of the most conservative members of the Republican Party. He consistently voted against legislation that would have expanded hate-crime protections to LGBT Americans. According to the Human Rights Campaign Congressional Scorecard, he earned a 0 percent for the 107th, 108th and 109th sessions of Congress. During the 110th session of Congress, Hagel earned a 20 percent due to his vote to reauthorize the President's Emergency Plan for AIDS Relief (PEPFAR), which, among other things, lifted the ban on HIV-positive visitors and immigrants.
While Hagel's nomination surprised few, advocates found themselves questioning less Hagel's record than what he plans to do if confirmed by the Senate as the next defense secretary.
"Our message to the next Secretary of Defense would be the same, no matter who was nominated and confirmed," Allyson Robinson, executive director of OutServe-SLDN, said in a statement. "A commitment to support LGBT service members and their families must be a commitment to action. It's past time to extend all benefits available to married same-sex military couples and families while the so-called Defense of Marriage Act (DOMA) is still on the books. It's past time to put in place military equal opportunity and nondiscrimination protections so that all qualified Americans who wish to serve this nation in uniform may do so without fear of harassment or discrimination."
Appearing on MSNBC, Sen. Tammy Baldwin (D-Wis.), who was sworn in as the upper chamber's first out member on Jan. 3 and will question Hagel during his Senate confirmation hearings, said she plans to "ask some tough questions, give a thorough review and be fair," adding that Hagel's anti-gay comments 14 years ago will be a topic of conversation.
"I do want to speak with him particularly about his comments 14 years ago to see if his apology is sincere and sufficient," Baldwin said. "I want to hear how he's evolved on this issue in the last 14 years because the significance to the post to which he's been nominated is the respect for now openly-gay members of the military who, because of the repeal of 'Don't Ask, Don't Tell,' can serve openly. And we need to see that implemented successfully, especially because the security of this nation is at stake in all of these regards."
Former Rep. Barney Frank was among those to soften his stance on Hagel. In December, Frank declared his opposition to Hagel's nomination in a highly charged statement, claiming that Hagel's "aggressively bigoted opposition to President Clinton's naming the first openly gay Ambassador in U.S. history was not, as Sen. Hagel now claims, an aberration."
Speaking to The Boston Globe the morning of Hagel's nomination, the gay Massachusetts Democrat said he had hoped Hagel would not be nominated, but insisted he be confirmed.
"As much as I regret what Hagel said, and resent what he said, the question now is going to be Afghanistan and scaling back the military," Frank told the Globe. "In terms of the policy stuff, if he would be rejected [by the Senate], it would be a setback for those things."
Frank added, "With the attack coming out of the right, I hope he gets confirmed."
Indeed, among those not to soften their opposition was the LGBT group Log Cabin Republicans, who ran their second full-page ad criticizing Hagel's nomination in the Jan. 7 Washington Post. On Dec. 27, LCR ran a full-page ad criticizing Hagel in The New York Times.
In a statement, Gregory Angelo, interim executive director of the Log Cabin Republicans, said the organization is invested in not losing ground on the gains made for gay servicemembers in recent years.
"Until his name surfaced as a potential nominee for Secretary of Defense, he has stood firmly and aggressively against not only gay marriage, but also against gay people in general," Angelo said in a statement.
The White House appears fully aware of the trepidation that continues among some of the president's staunchest supporters. In a blog post published on The Huffington Post and the White House's website, senior advisor to the president Valerie Jarrett noted concerns among the LGBT community, but reiterated Obama's commitment to open military service.
"He is confident that, as Secretary of Defense, Senator Hagel will ensure that all who serve the country we love are treated equally — no matter who they love," Jarrett said of Obama.
"One of the great successes of the LGBT civil rights movement is that it provides the space and opportunity for people to change their hearts and minds, to right past wrongs, and, over time, to evolve," Jarrett wrote. "The President believes Senator Hagel's statement of apology, and his commitment to ensuring that all service members and their families are treated equally. The President would not have chosen him unless he had every confidence that, working together, they will continue to ensure that our military and DoD civilian workforce are as welcoming, inclusive, and respectful as possible."
Obama has urged the Senate to confirm Hagel as secretary of defense as soon as possible.
[Photo: Obama speaks at nomination ceremony with Leon Panetta (left), Chuck Hagel, John Brennan, Michael Morrell (Photo by Justin Snow).]