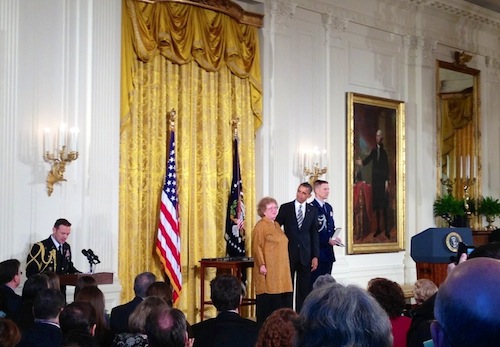 President Barack Obama today honored Jeanne Manford, the late founder of Parents, Families and Friends of Lesbians and Gays (PFLAG).
During a ceremony in the East Room of the White House, Obama presented the Presidential Citizen Medal to Manford's daughter, Suzanne Swan, who accepted the medal on her mother's behalf. Manford died last month at the age of 92.
"We host a lot of events at the White House but I have to admit this is one of my favorites, because it's a moment when, as a people, we get to recognize some extraordinary men and women who have gone above and beyond for their country and for their fellow citizens — often without fanfare; often with not a lot of attention; very rarely for any profit," Obama said.
Obama selected Manford and the 17 other recipients of the nation's highest civilian honor after the White House received more than 6,000 nominations.
"When Jeanne Manford learned that her son Morty had been badly beaten up at a gay rights demonstration, nobody would have faulted her for bringing him home, holding him close, just focusing on her child," Obama said. "This was back in 1972. There was a lot of hate, a lot of vitriol towards gays and lesbians and anyone who supported them. But instead, she wrote to the local newspaper and took to the streets with a simple message: No matter who her son was — no matter who he loved –- she loved him, and wouldn't put up with this kind of nonsense. And in that simple act, she inspired a movement and gave rise to a national organization that has given so much support to parents and families and friends, and helped to change this country. We lost Jeanne last month, but her legacy carries on, every day, in the countless lives that she touched."
Manford founded PFLAG after her son, Morty Manford, who died of AIDS-related complications in 1992, was among those patrons at the Stonewall Inn in New York's Greenwich Village when a police raid sparked the 1969 Stonewall riots. When Morty Manford was beaten during a Gay Activists Alliance demonstration in April 1972 and police failed to intervene, Jeanne Manford wrote a letter to the New York Post in support of her son.
"I have a homosexual son, and I love him," her letter read.
That same year Jeanne Manford marched with her son in New York City's Christopher Street Liberation Day March. The outpouring of support from those marching in the parade who asked her to talk to their parents led her to found a support group that later became PFLAG. Today, the organization has 350 chapters with more than 200,000 members.
[Photo: Suzanne Swan accepts the Presidential Citizens Medal from Barack Obama on behalf of her mother (Credit: Justin Snow/Metro Weekly)]
Watch the ceremony here: