Jesson grew up in a college "party town," which may explain his fearlessness and sense of independence compared to others his age. Despite the advice of his family, the native of State College, Pa., resettled in the D.C. area where he works as a sales manager for two Nine West stores. When he's not busy working or studying, the 19-year-old, who lives in Bloomingdale with his DJ boyfriend, likes to be as social as possible. You'll typically find him at Cobalt on Thursdays and Town on Fridays.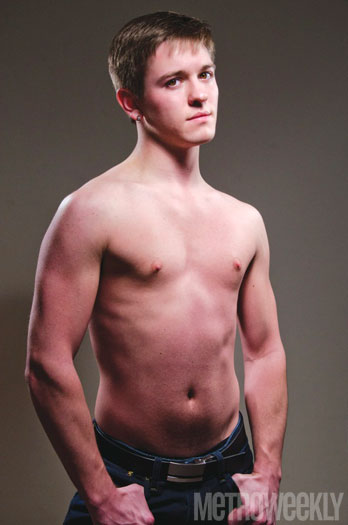 Coverboy: Jesson
(Photo by Julian Vankim)
What's on your nightstand?
Some half-empty drinks.
What's in your nightstand drawer?
A bunch of sex toys I'll probably never use. I generally use the nightstand drawer as a "junk drawer," where I'll keep memorabilia and souvenirs from trips.
What are your television favorites?
Downton Abbey, The Walking Dead, RuPaul's Drag Race and, if we're counting YouTube, Willam's Beatdown.
What was your favorite cartoon when you were a kid?
It's a tie between Power Rangers, Blue's Clues and Scooby-Doo.

What superhero would you be?
Superman.
Who's your greatest influence?
Probably Madonna and Oscar Wilde. They both broke a lot of barriers.
What's your greatest fear?
Awkward people. I like having random conversations with people when I go out, meeting new people. But when they're like, "I don't know you," it's annoying.
Pick three people, living or dead, who you think would make the most fascinating dinner guests imaginable.
Willam [Belli], Michelle Visage and Kesha.