Ask Catie Curtis if her uplifting, anthemic song "Another Day on Earth," complete with a "whew-ew-ew" refrain, is a crowd-pleaser, and she confirms so in her customary funny, genial way: "It's a hoot. A folk singer's version of a hit. A hootenanny."
As recorded for her charming 2011 album Stretch Limousine on Fire, "Another Day on Earth" offers a message of perseverance, with a nod toward diversity. "It's all right, it's okay, we can make it work," she sings. "Up or down, left or right, yellow, brown black or white, it's another day on earth. Whew-ew-ew."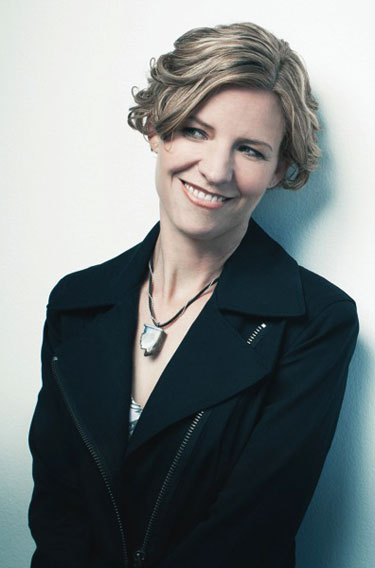 Catie Curtis
(Photo by Tony Baker)
But Curtis has since changed the lyrics in the verses to "talk about religious diversity…and the belief that we can all coexist here." The change is a reflection of the liberal activist's recent volunteer work with Americans United for Separation of Church and State, as well as her own increasing participation with Unitarian Universalism. Curtis says she may re-record the song for a new album later this year.
"You know, I've been really enjoying integrating my political views, in terms of caring about diversity," Curtis says, by which she means not just diversity in religion but also of family structure. Curtis is currently raising two girls, ages 8 and 10, with her wife in Massachusetts. The family makes regular visits to the adopted daughters' native country Guatemala. "It's been a very enriching experience to have the kids' birth families in our lives," Curtis says. "It's definitely opened my worldview."
Curtis has also performed at the White House holiday concert for three years running, and last year she released her first Christmas album inspired by the gigs. "I never thought of myself as a Christmas act, if there's such a thing as a Christmas act," she laughs.
Of course, she won't perform holiday tunes next week when she stops at The Barns at Wolf Trap. Instead, the vibe will be one of a "big family reunion." "The Barns is like going home, I think because of the way it feels," says Curtis, laughing, "It feels like you're in your uncle's barn or something." — Doug Rule
Catie Curtis performs Thursday, March 28, at 8 p.m. 'The Barns at Wolf Trap, 1635 Trap Road, Vienna. Tickets are $22. Call 877-WOLFTRAP or visit wolftrap.org.