Now that the dust has settled on the 2012 election, the fiscal cliff and budget sequestration, the business of governing in President Obama's second term is underway. Where that business is of the "small" variety, the administration is touting its accomplishments and looking ahead.
"We got capital into the hands of small-business owners and entrepreneurs when they needed it most," said Emily Cain, press secretary for the Small Business Administration.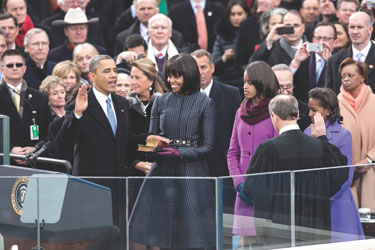 President Barack Obama's 2nd Inauguration
"SBA supported more than $106 billion in lending to more than 193,000 small businesses and entrepreneurs" and "helped increase American competitiveness through an aggressive push around high-growth entrepreneurship."
But new laws and proposals have small businesses wondering what's in store for the next four years.
One marquee change is the Affordable Care Act (ACA). The ACA's 35 percent tax credit for health premiums paid by qualifying small businesses will increase to 50 percent in 2014.
Under the law, many states will establish health care exchanges, with Small Business Health Options Programs (SHOPs) that are intended to increase coverage, offering a variety of plans and benefits. Proponents of SHOPs say greater competition, purchasing power, and lower administrative burdens will make them attractive options. According to the Kaiser Family Foundation, only 57 percent of businesses with 50 or fewer workers currently provide employee health benefits.
Companies with more than 50 employees will be required to provide health insurance to their employees or face penalties. To pay for some of the ACA's costs, an additional Medicare tax of 0.9 percent will be levied on wages or self-employment income of the highest earners.
Despite debates over the ACA, Justin Nelson, president and co-founder of the National Gay & Lesbian Chamber of Commerce, is bullish on its prospects.
"There is no denying the ACA will benefit small businesses, specifically the key provisions in the law that help them better afford insurance, such as tax credits and insurance exchanges, and those that contain costs," Nelson said.