"I'm completely uncomfortable in my own skin," says Mika. "I'm neurotic, self-contradictory and just unbearable."
That may be how the international pop star sees himself, but it's certainly not the impression you get by spending any time with the man born Michael Penniman Jr. At least since fully coming out as gay last year, the European-reared and London-based American singer-songwriter is refreshingly candid, forthcoming and friendly in conversation. He reveals himself to be as knowledgeable about — and as influenced by — the Catholic Church as he is by early pop-music pioneers, including Cole Porter and Patti Page.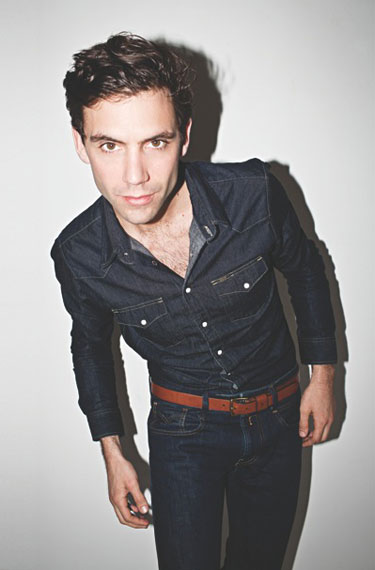 Mika
(Photo by Mark Cant)
Mika's music is anything but unbearable, either. Across the span of three albums in six years, the 29-year-old has consistently made appealingly catchy tunes, both sunny and sharp — smart — from "Grace Kelly" to "Blame It on the Girls" to "Popular Song," his remake of the big number from the musical Wicked.
Those lucky enough to have snagged tickets to his intimate, sold-out concert at Sixth & I Historic Synagogue in the second week of April will hear his hits. But the artist also intends to play some songs from his back catalog, as well as other songs still in the development stage. He'll be performing with support from two other multi-instrumentalists with whom he's also started recording a new album.
"It sounds like a new interpretation of '70s songwriter pop, like Billy Joel, for example," he says. "It's a complete contrast to the saturated, produced stuff that I've been making for the last two years."
Obviously, Mika isn't resting on his laurels. He's increasingly writing for others — "some pretty cool artists, too" – though he declines to say who. ("I can't. Scout's honor, you know.") Chances are, we're talking veritable pop stars. After all, he's recently co-written for Madonna — the unforgettable "Gang Bang" from MDNA — as well as collaborated with Pharrell Williams and new Nickelodeon star Ariana Grande.
As Mika sums up his approach: "It's a constantly changing dynamic. It's like never resting on your form or opinion. Always moving, changing."
METRO WEEKLY: I know that you're out now, though you've never really been "in." Last year, however, you did come out a little bit more directly.
MIKA: [Laughs.] It's funny to hear it like that. Your whole life, and your decision-making, your choices, your drive – everything reduced to either a two- or three-letter-word. That's the politics of sexuality. It's so reductive.
MW: Your last album, last year's great The Origin of Love, seemed a little lighter and sunnier and happier than the first two. I wondered if becoming more explicit about being gay had any bearing on that.
MIKA: I actually have to agree with you — I think that it probably does. It's a kind of fearlessness, right? There's less deflection. You get this much more candid – yet sometimes quite brutal, and brutally optimistic – un-judgmental way of writing lyrics. Which is kind of what happened.
My albums are a reflection of my life at this time, which for some reason in pop music people find that hard to believe. It's like you assume that pop records are just these constructs from the back of [super-producer] Dr. Luke's empire. Some think that seems to be where pop comes from. But it's not, actually.
Pop can be brutally honest and very reflective of the life of the artist. It was totally a reflection of that. The more brutal and honest and open and candid we are with what we write, the more potential we have to actually be moving or to say something that makes you feel something.
MW: I understand that as a kid, when you lived in Paris, you were bullied.
MIKA: Oh, I was bullied my whole life. In some way I still feel like I am in some places — in some countries, let's put it that way. People say they don't judge me, but they do. They hate nonconformity in a lot of places. That kind of bullying is something that everyone experiences all the time, in some measure or another, in some way or another. I think it never really goes away.
But, yes, as a child, it's particularly brutal when you're being bullied – especially if you're being bullied about something that you can't fucking change, that you didn't fucking choose. Because it's just not fair! And only a cunt would bully you for that. So I have to say, does the concept of being bullied for something you can't choose anger me? Yeah, enormously. I just think it's so stupid. It's just bad education. Two things breed bullying, I think. It's complacency and fear. And each is as destructive as the other…. Judging by the sound of it, you're in New York. I can hear sirens.
MW: No, I'm in D.C.
MIKA: I just have this thing — sirens and New York City.
MW: You don't have that in London?
MIKA: No, we don't have that. We hear foxes mating. And trust me, I'd rather hear a siren than a fox mating. There's nothing more horrific to hear.
MW: I don't know what a mating fox sounds like.
MIKA: It sounds like something from a horror movie. It's really horrible. I hear it in my garden. It's really nasty. You'll never look at a fox the same way again. [Fantastic Mr. Fox filmmaker] Wes Anderson got it completely wrong.