There's something about Judy Tenuta and gay audiences. There is a mysterious connection that's kept the two intertwined for the duration of her comic career, launched in the 1980s. Is it her Grammy-nominated comedy recording, Attention Butt Pirates & Lesbetarians — recorded at Christopher Street West's L.A. Pride festival? Maybe it's her roles in gay movies Going Down in LA-LA Land and Butch Camp? Her 2012 e-book, Full Frontal Tenudity?
Whatever it is, that popularity has translated into countless appearances at gay events, signature accordion in tow. One upcoming gig will have Tenuta celebrating spring amid the boys and girls of Gay Days Orlando. She seems pretty excited about it. Then again, Tenuta is pretty excitable.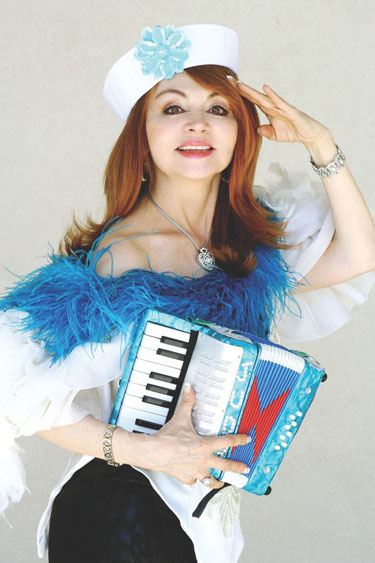 Judy Tenuta
METRO WEEKLY: What can you tell me about Gay Days Orlando?
JUDY TENUTA: I don't know! It's a bunch of gay guys running around in thongs and feathers. I thought every day at Disney was "Gay Day." Everyone who works for Disney is gay, and you know it.
MW: It does seem festive.
TENUTA: Not "festive" – they're gay! Hello? Let's just sing all day and do musicals.
MW: With Disneyland, Tokyo Disneyland –
TENUTA: I love 'em all! I was just at Disneyland for Christmas. Oh, my God, I had the best time.
MW: Do you have a favorite ride?
TENUTA: I love It's a Small World. It's just happy. What I love about Disney is all the characters running around, the way it's decorated. I love all that stuff. And, oh, the fireworks! I love the fireworks. And they have the water thing. "Fantasmic"? It's just fantastic. We usually go around Christmas and the Fourth of July.
MW: So, not a roller-coaster kind of goddess?
TENUTA: I went on that mountain….
MW: Space Mountain?
TENUTA: Enh….
MW: Matterhorn?
TENUTA: Yes! Matterhorn! It's fun – once. But I can't go on like seven times in row like I used to when I was, like, 18. I used to go on roller coasters all the time. But, hello, once you're past 50…. I'll watch all the crazy teenagers go over and over and then throw up.