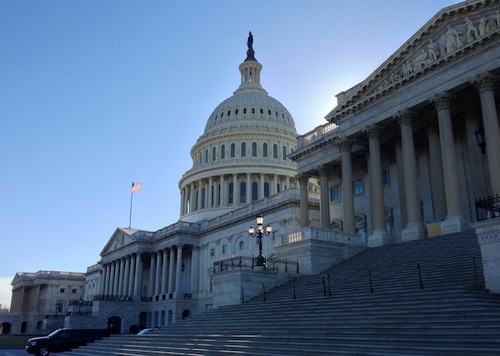 With the Senate's "gang of eight" expected to unveil their comprehensive immigration-reform bill as early as this week, a coalition of advocates rallied outside the United States Capitol today for reform that includes, among other things, protections for LGBT people.
"We will make comprehensive immigration reform a reality this year," Sen. Bob Menendez (D-N.J.), a member of the group of senators working on immigration reform, told the crowd of thousands on the West Lawn of the Capitol. Although Menendez said the eight senators were writing the bill "as we speak" and that an agreement had been reached on "all the major issues," it remains unknown if protections for same-sex couples will be included in the Senate's bill.
However, that uncertainty didn't stop a long list of national LGBT organizations, including the National Gay and Lesbian Task Force, the Human Rights Campaign and Immigration Equality, from joining in the fight for reform during today's National Immigration Day of Action.
"LGBT people are immigrants, and immigration is an LGBT issue," said Rea Carey, executive director of the National Gay and Lesbian Task Force. Noting that binational same-sex couples face separation under the current immigration system, Carey said "America can do better."
A recent report by the Center for American Progress and the Williams Institute found that of the 11 million undocumented immigrants in the U.S. today, at least 267,000 are LGBT adults. According to the Family Equality Council, there are more than 36,000 binational same-sex couples living in the United States today. Nearly half of them are raising children. Without recognition of same-sex relationships in deportation proceedings, many of these families risk being torn apart.
"In America, there will be no second-class families," Ben Jealous, head of the NAACP, said during Wednesday's rally.
Despite calls for LGBT inclusion outside the Capitol today, it appears increasingly unlikely protections for same-sex couples, including allowing gay Americans to sponsor their permanent partners for legal residency, will be included in the Senate bill.
Although President Barack Obama's proposal "treats same-sex families as families by giving U.S. citizens and lawful permanent residents the ability to seek a visa on the basis of a permanent relationship with a same-sex partner," according to an outline provided by the White House, Senate Republicans have balked at that proposal.
"The current broken system hurts, scapegoats and vilifies all immigrants, including LGBT immigrants, and their friends and families. Comprehensive federal immigration reform is an urgent priority for our nation and the LGBT community," Kate Kendell, executive director of the National Center for Lesbian Rights, said in a statement.
The White House has not indicated if it will introduce its own version of an immigration bill if the Senate's version does not include LGBT provisions, but amendments are expected to be attached to the bill in both the Senate and House of Representatives. The Uniting American Families Act (UAFA), which would add the term "permanent partner" to sections of the Immigration and Naturalization Act and extend immigration rights currently enjoyed by straight couples, has been introduced in the House and Senate.
[Photo: U.S. Capitol (Credit: Justin Snow/Metro Weekly)]