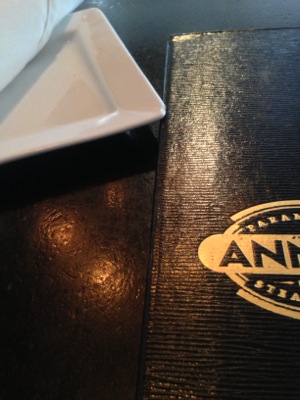 If you venture into the legendary Annie's Paramount Steak House, arguably the central hub of 17th Street, and are fortunate enough to be seated in Mano's terrain, and you opt for a steak (as you should), the boisterous, lovingly warm waiter will, with gentle, expert finesse, cut a tiny bit off the end and feed it to you. A taste for your approval. Think of Mano as a beef sommelier.
Of course, I wholeheartedly approved of the ribeye I ordered on a recent Friday night — and, in fact, had to stop Mano from eagerly slicing up the entire sizzling 12 ounce slab, just so I could get a photograph of it intact.
For over 30 years, I've had a love affair with the steaks at Annie's — owner Paul Katinas and company were serving Angus beef before it became the de facto, something you could purchase in your local supermarket. The beef at Annie's is top notch prime, culled from a small group of family-owned ranchers. The steaks, dry-aged and hand-cut on the premises, are the epitome of thick, juicy, melt-in-your mouth succulence. Anyone who orders their beef here anything other than at least medium-rare is missing the point. You want your steak at Annie's to have that alluring, juicy red center. If you're the type who goes for well-done, order one of their non-beef signature dishes instead. This is a steakhouse where the meat should be respected not abused by fire.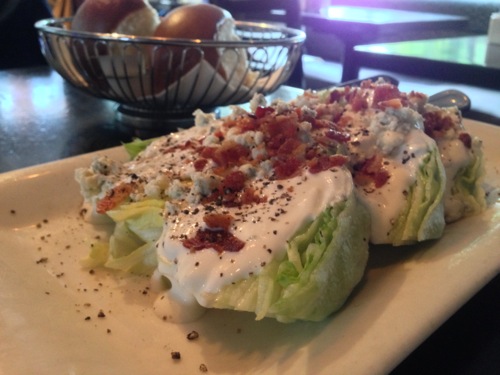 I'm pretty much a creature of habit at specific restaurants. And at Annie's I'll generally start with a wedge salad, which here, is elegantly presented — a trio of iceberg wedges, slathered with a creamy bleu cheese dressing spiked with tangy crumbles and drizzled with crisp smokey bacon. They sometimes forgo the tomato at Annie's, which is just as well, as the tomatoes out there right now are of the mealy hothouse variety.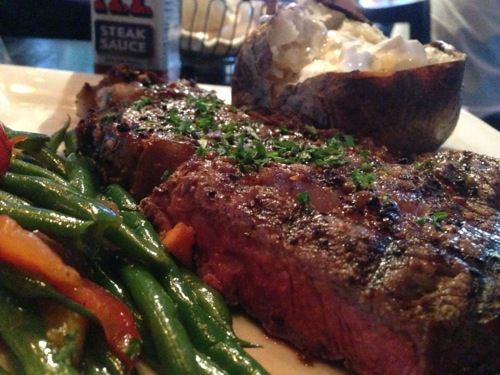 My ribeye came with a side of fresh, crisp green beans sauteed with red and yellow peppers, and a perfectly baked potato. I was treating myself to a bit of well-deserved culinary decadence, so I begged Mano for an extra scoop of sour cream. Because to me a baked potato isn't a baked potato unless the cream outweighs the starch.
As I had no drinks or dessert, my meal came to a reasonable $37. Frankly, I call that a bargain.
Annie's Paramount Steakhouse is located at 1609 17th St. NW. Call 202-232-0395 or email reservations@anniesdc.com.
Photography by Randy Shulman