"I think there wasn't someone like me on TV before, so maybe it was a little culture shock. Like, who's this big gay cartoon clown?"
Everyone remembers his first time seeing comedian Ross Mathews, who got his start as the all-caps GAY intern on The Tonight Show with Jay Leno over a decade ago. Not everyone was as enraptured as actress Gwyneth Paltrow, who writes in the foreword to Mathews's new memoir, "I fell in love with Ross Mathews the first time I saw him." That was for his first assignment, covering the 2002 Winter Olympics in Salt Lake City.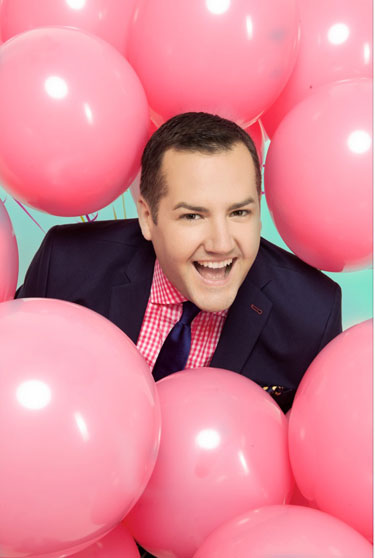 Ross Mathews
(Photo by Austin Young Photography)
But at the very least, surely you've warmed to the funny and sweet man over the years. For several years Mathews has been one of the funniest regulars — and a regular guest host — on the E! Network's Chelsea Lately. Show host Chelsea Handler calls Mathews her "favorite gay person" in the afterword to his book Man Up — which in fact Handler published. Handler is also producing Mathews's debut talk show, to begin airing this fall on E. The comic describes the pop-culture-obsessed Hello Ross! as "the ultimate fan forum" and a nighttime version of all those daytime talk shows the 33-year-old grew up on, from The Phil Donahue Show to Sally.
Next week Mathews stops in town for what he calls "an interactive one-man show," in which he'll share stories from his memoir. The book documents Mathews's ascent from his humble roots "growing up in a small farm town [in Washington state] as a totally gay kid with dreams of Hollywood," to his adventures with celebrities in Tinseltown. "When you 'man up,"' Mathews describes the book's title and premise, "you accept: you are what you are what you are. You have to love what makes you different, and use it to make you stand out, as opposed to hating it."
"For some reason I locked into that at a really young age," he continues, "where it was just like, 'I don't care what they say, I like myself. I'd rather be me."' '
Ross Mathews appears Thursday, May 9, at 7 p.m., at Sixth & I Historic Synagogue. 600 I St. NW. Tickets are $30. Call 202-408-3100 or visit sixthandi.org.