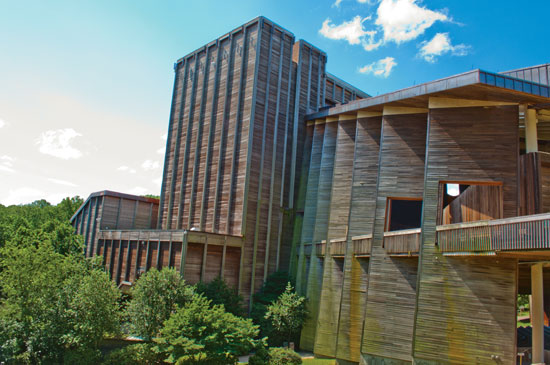 Wolf Trap exterior
(Photo by Todd Franson)
MW: How much of a hand did you have in putting together the 2013 Filene Center season? I could be wrong, but I don't know if Carly Rae Jepsen or OneRepublic, to name two acts this season, would have been on the calendar five or 10 years ago.
MANOCHA: I can't say about five or 10 years ago. A lot of this season was put together before I got here. Some of it we were tweaking after — the cycle of planning a season is generally about eight months to a year in advance. So depending on when in this summer calendar, I was around for some of the last parts of the booking. The booking team here is very creative. I certainly am open to a lot of new things, so when they present ideas about different artists and acts, I definitely feel like there's a lot of opportunity in shaking things up a little bit. And so some of the things you [mentioned] are in the vein of what you'll see in the future.
MW: You're aiming to appeal to a younger, or at least different, demographic than in the past?
MANOCHA: Maybe different. Because we still appeal to the Garrison Keillor crowd and the opera crowd, and that's all foundational. But it's nice for the Kesha fans to start their relationship with Wolf Trap earlier in their life.
I like that when I'm talking to donors who have been involved with Wolf Trap for many, many decades, and I mention that Kesha is coming, they all kind of do a double-take. And then they're excited, because their teenage daughters are hitting them up for tickets, and so they're starting to be engaged on the Kesha front as well. I don't think they're all getting loaded and brushing their teeth with Jack Daniels in the morning, but they're starting to understand that there's more to it.
MW: How selective can you be with your programming? You want to sell out shows, but bringing in the likes of Kesha might strike some as substituting quantity for quality.
MANOCHA: It's a balancing act. The financial imperatives are especially important here – not because they're going to shareholders, and there's that pressure – but because the money that we make here helps support our education programs. We're very conscious of the fact that — and I hope the audience is very conscious of the fact — that there's a much more altruistic reason that we care about the bottom line on these summer shows. Because the more we [make], the more education we can provide. It's very linear, it's very causal. It's not a casual relationship at all. We're not apologetic about it, because we know that what we do with that money actually goes back to benefit on a much broader scale.
MW: A portion of ticket sales goes toward your education programs?
MANOCHA: Yes. I think that's a very important and under-known fact. When you come to see a concert at Wolf Trap at Filene Center, the ticket that you buy, you're going to get the experience that you want from a musical perspective, but some of that ticket money is helping us educate children, using the arts from Arizona to Detroit to Florida to Boston — all of which have Wolf Trap programs.'
MW: I understand that one of your extracurricular passions is architecture, so being at Wolf Trap must present an extra thrill for you.
MANOCHA: These buildings are amazing. The two main venues we have for music, Filene Center and the Barns, are architecturally showstoppers. I was very fortunate in the sense that I had worked both at the Walt Disney Concert Hall, which was Frank Gehry's project, and then at the Hollywood Bowl, which is another iconic piece of architecture.
But we all looked at Wolf Trap as a real example in the industry, certainly on the Filene Center side, of just a stunning piece of architecture that was so well placed within its site so that you end up having a very successful sensory marriage. You're coming for music, but you're at a place that was clearly built for the enjoyment of music and for the enjoyment of the park. Patrons understand that an arena that was built for ice hockey that is being used for a concert is a very different thing than going to someplace that was clearly built for music and for the enjoyment of music. This was obviously a place that was built with a tremendous amount of care and attention to the beauty of the architecture itself.
The Barns weren't built for music, were converted for music, but that is a stunning interior and a very intimate space for music. It's a place that's unique. It's got character. It's not a little black-box club that could be anywhere. It's a very unique spot, and you know it when you're in it. If you're somebody like me who loves architecture and really respects the role that architects play in society, it's a very all-encompassing artistic experience. '
MW: You mentioned that Wolf Trap is a national park. The grounds are available for patrons – or anyone, really – to come and spend the day and have a picnic, or go for a hike?
MANOCHA: It's the "national park for the arts," but it's a national park. There are over 100 acres of parkland that make up this national park, and they're stunning.
We have a children's theater that's buried deep in the woods, which we program during the day in the summertime. Parents can bring young kids to learn about various music and cultures around the world.
There's a stream, there are picnic areas, there are jogging trails — it's all well sign-posted. People come out during the day and have picnics and exercise. Or sled in the winter when it's snowy.
MW: Over the next five or 10 years, what are your general goals, both personally and for Wolf Trap?
MANOCHA: For Wolf Trap, I would say clearly continuing on the traditions of the Filene Center in terms of our commitment to diversity. There are some new things that I want to put in place for the next year and the year after. I think a big opportunity for Wolf Trap, and something that I'm very focused on, is making sure that people understand the Wolf Trap story better. The education work that Wolf Trap does is so important and so far-reaching, and I find it's something that not everybody is aware of. The only thing that stands between getting more kids through the Wolf Trap program is a matter of awareness and money. And that's my job to figure out how to bring more of both into the mix.
On a personal level, well, within five years we'll have moved into our new house, gotten married. Beyond that I can never say.
MW: What about kids or pets?
MANOCHA: In terms of children, no, we are not looking at children in our future. Pets? [Gideon] wants pets because he grew up with dogs, but he refuses to believe that he's allergic. But he is. I did not grow up with pets so it's harder for me to see…. We are talking about a chicken coop. '
MW: To raise for eggs and meat?
MANOCHA: I don't know so much about meat. I think we're just focused on the eggs. I mean maybe eventually.
MW: And you can do that in your new neighborhood?
MANOCHA: We're not entirely sure yet. In L.A. you can do it anywhere. They have urban chickens everywhere. You can have a little 10-feet-by-10-feet patio and have chickens out there. Here it's a little bit more regulated, weirdly, because it's one of the few things that seems to be more regulated in Virginia than California.
I saw a really great, very contemporary-style chicken coop, so I thought, if he really wants the chickens for the eggs, then we could build or buy something that's really sleek for the chickens, that could be a good combination of both of our interests.
MW: While at work at Wolf Trap, at least, I gather you see a lot of animals. Though, despite the name, no wolves.
MANOCHA: This used to be a place to trap wolves. I see foxes from my office from time to time. There are lots of bunnies, lots of deer. And bears if you come on a gay night.
[Read more "Hints from Arvind: Wolf Trap's Future"]
For a complete listing of upcoming performances and other offerings at the Wolf Trap National Park for the Performing Arts, located in Vienna, visit wolftrap.org. For general information, call 703-255-1900. For the box office, call 877-WOLFTRAP.