I am an American. I speak and write English. I've gone to American schools, grown up with American friends, and pledged allegiance to the American flag more times than I can count.
I am also openly gay, and one of over 267,000 undocumented LGBT immigrants in the U.S. and part of the 11 million undocumented Americans whose futures, security, hopes and dreams hang in the balance if Congress fails to pass comprehensive immigration reform.
My parents brought me here from Lima, Peru, when I was 2 years old. I have a younger brother whom I barely know. That's because when our parents brought us over, he was forced to stay behind due to his very young age. My little brother was just an infant at the time. Unfortunately, this was only the first of many times my family would be forced apart throughout the course of my life.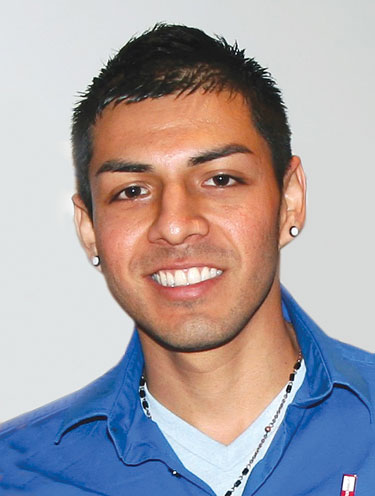 Marco Quiroga
(Photo by Latino GLBT History Project)
Luckily, I had my mother who always put me first, even in the face of great adversity. Mom had long been the victim of my father's domestic violence, but stayed silent for security's sake – and for that of her children. At the time, divorce in Peru was difficult, if not impossible.
Things changed when we came to the U.S., however. Yes, my mother was enduring the pain of being separated from her youngest child, but she had had enough of enduring my father's abuse. In this new country, Mom realized she could leave, that there was a way out – and a way forward – for both of us.
Mom took the little money she'd saved from laboring as a domestic worker and put us on a bus from where we lived, New York, to Orlando to start a new life. We had escaped my father, but were confronted with a different set of challenges. My mom didn't know her rights and couldn't afford legal counsel. Like countless others, she fell through the cracks of our broken immigration system.
My mom tried. She worked hard, and always focused on the safety and well-being of her children. She saved every penny she earned to bring my little brother to the U.S. from Peru. And after 10 years of being apart, he finally came home. This was such a dream come true, because I always wished for a little brother.
My brother is also gay. I remember when he came out to me and told me about what it was like for gay people in Peru, where there are practically no legal protections for LGBT individuals. He grew up facing unimaginable harassment – so much so that he almost tried to take his own life at one point.
I began to realize that my brother and I had more in common than I thought. I, too, had lived a "double-closeted" life, hiding both my sexual orientation and my immigration status. I, too, had been living in fear. I was afraid of coming out of the closet and losing my family, and of coming out of the shadows and being deported.
My brother and I shared more than blood. We shared the same story and a similar struggle. It was only five years later, however, that he was deported. It has been eight years since my mom and I have seen him.
I am hopeful, though, that one day I will see my brother again. And I am hopeful that Congress will act on behalf of all of my immigrant brothers and sisters. Because if there's one thing that I've learned, it's that we matter. I matter. My dreams, my brother's dreams, and my mother's dreams – they all matter.
We are not invisible. We work hard, we contribute, and we are critical to the health and prosperity of our country.
Marco Antonio Quiroga is a D.C.-based immigration activist and serves on the Latino GLBT History Project's steering committee.