"I think this is just a great representation of a lot of the talent that we have in D.C. and in our community," says John Marble.
Marble could be talking generally about all that's in store during Capital Pride Weekend 2013. Though technically, he's touting Spandex, the official Pride opening party that he's organized with BYT Productions. Queer electro band Glitterlust, drag queens Pussy Noir and Jezibell Jaxknife, and DJs CTRL, Tommy Cornelis and Bil Todd are just a few of the locals on tap starting at 9 p.m. this Friday, June 7, at a party headlined by RuPaul's Drag Race 2012 victor Sharon Needles, Baltimore rapper Rye Rye and New York queer band Avan Lava. With a Superheroes theme, this year's BYT party (spandex.eventbrite.com), even includes a basement cave for furry fellas seeking "a darker dance experience," presented in partnership with DC Bear Crue and Otter Crossing. That's all set for the four floors of the historic old Wonder Bread Factory on S Street NW in Shaw, which Douglas Development Corporation is waiting to finish renovating to allow Pride to have one-night-only in the space. "Right now it's just open, high ceilings. It feels like it was built as a dance club," Marble says.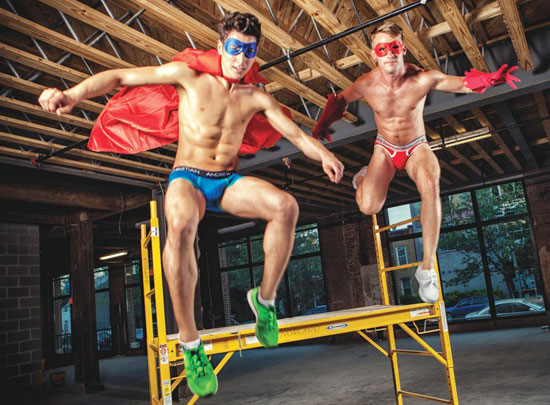 Spandex
(Photo by Dakota Fine, Brightest Young Things)
But that's just the official opening salvo in a full weekend of mirth. As ever, the Green Lantern and Cobalt are your best bets if you'd like to start the proceedings tonight, June 6: Green Lantern for its popular Shirtless Men Drink Free hourly event at 10 p.m.; and Cobalt for its "Ripped: Hot Body Contest" at midnight. Green Lantern, the hirsute-popular venue, also hosts a Pride Edition of the monthly Bears Can Dance party on Saturday, June 8, with veteran local DJ Daryl Strickland. And Sunday, June 9, ushers in a new party, Destination Unknown, featuring DJ Christian Gerard, now a Metro Weekly contributor (metroweekly.com/soundwaves) but formerly the resident DJ at Bear Crue Fridays at Town.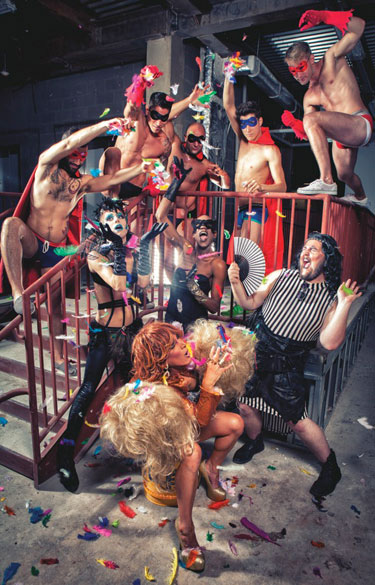 Spandex
(Photo by Dakota Fine, Brightest Young Things)
Speaking of Town, the venue's Friday Bear Happy Hour, starting at 6 p.m., will announce the winner of its 10-week competition for a new DJ. Naturally the city's leading danceboutique has a full slate of Prideful events on tap this weekend, from performances by former Drag Race contestants Willam, Detox & Vicky on Friday night after 10 p.m., to this year's Drag Race Top Three — Alaska, Jinkx and Roxxxy — on Saturday, followed by a night of dancing to the beats of Town's own Ed Bailey and New York's Hector Fonseca.
Secrets is throwing a White Party Friday, but of course will be a sausage-lovers paradise all weekend long, with dozens more fully nude male strippers ringing and flinging the club than usual. Downstairs in the Southeast complex, Ziegfeld's Ladies of Illusion will offer Colors of Pride shows both Friday and Saturday nights.
Phase 1 of Dupont hosts the Fuego Latin Dance Party on Friday and then this year's Pride Main Women's Event, "Fuse," Saturday, starting at 9 p.m. and featuring DJs Ri-Mix and Rosie and DystRucXion Dancers. Also on Saturday, Shea Van Horn and Matt Bailer offer another Mixtape (mixtapedc.com) at the Black Cat; Bob Mould and Rich Morel return for a Pride Blowoff (blowoff.us) at the 9:30 Club; Cobalt imports the great DJ Eddie Elias, as well as an opening set by Baltimore's Shawn Q; and then there's a new party, Q2K: A Queer Millennium Pride Celebration, featuring DJ Joshua and Alex DB at the new 14th Street NW bar Black Whiskey (blackwhiskeydc.com).
Late into the night and the dawning hours of Sunday, June 9, the Cherry Fund (cherryfund.org/events) throws the rare Afterhours party at the 14th and U Streets NW basement hotspot Tropicalia, featuring DJ BennyK from New York.
Really, every nightlife spot in town should be bustling all weekend long. Particularly those along the parade route should be hopping Saturday, from the Fireplace to JR.'s to Number Nine. But it'd be hard to find a quiet LGBT bar in town any time this weekend, whether a few blocks, such as Mova, or a few miles, such as Freddie's Beach Bar, from the official Pride action. Nellie's popular Guil-Tea summer Sunday party welcomes guest DJs Khelan Bhatia and Adam Koussari-Amin, known for spinning the 18th and U Duplex Diner's '80s-themed Breakfast Club party. And MAL-organizers the Centaurs MC offers a "Hungry Heroes Pride Weekend BBQ" starting at 6 p.m. at the DC Eagle.
But Sunday's Official Pride Closing Party is at Cobalt starting at 9 p.m. with a reprise of the venue's old popular Tuesday night retro-dance party Flashback, naturally featuring DJ Jason Royce. The party is billed as "a high-energy trip back in time where Madonna meets Mickey [and] dancing queens collide with bad girls." You might be running on fumes by that point, but hey, Capital Pride only comes once a year. That's plenty of time to recover.
For more info on these and other area gay bars, visit MetroWeekly.com/nightlife.