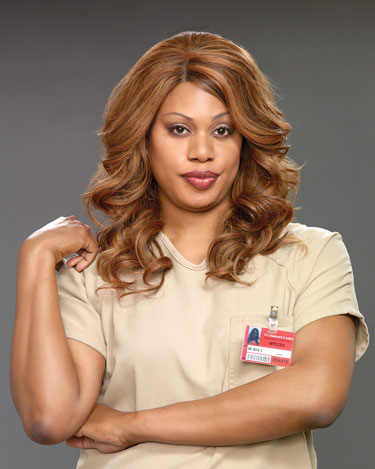 Laverne Cox
(Photo by Jill Greenberg for Netflix)
MW: Is it a difficult role to play?
COX: It's just the script. It really is all on the page with this character. All of our characters are really so well written. My job is to just honor what's in the script.
MW: What about having Jodie Foster as a director?
COX: One of the highlights of my career, so far. Amazing. Kind of surreal. She's just really smart. It was very much like working in film than in a TV show. She'd do a take, then want to try a different way. I love that. I love that process. You have to love the process of making film, making TV, or you're dead, because it's a lot of long hours. And Jodie is just really in the process. One day we were like 18 hours there. She has so much energy, so much. She's just, like, popping out. It's exploratory. She's an actor herself, so she's very specific about what she wants, but then she likes to try a lot of different ways, too. It's collaborative. I got to meet with her a few times before and say, "This is my take on the scene." Lots of respect.
MW: So she didn't beat everybody up with her Oscar?
COX: [Laughs.] I think it's because she's a superstar, a legend, that she does such a great job of being regular and ordinary and just chill. She is one of the most chill people I've ever met. So cool. She gives you energy that's like, "You can relax. It's okay."
MW: What about your fan mail? With this role, I'm guessing you get some really touching, heartfelt messages.
COX: I do, I do. Lots of really incredible messages on Facebook, on Twitter and through my website. There was one guy like, "Can you be my big sister?" It's neat. People are connecting and are inspired.
I think there's something about Sophia's story, and maybe a little bit about mine. A person like me isn't really supposed to be successful, right? Society isn't set up for black trans women to be successful. But through the grace of God and through the grace of Jenji Kohan, I've gotten to have this opportunity. And it's inspiring folks to think that maybe they can make it, too. That they can have their moment, make their dreams. There's something really powerful about that.
MW: Have you heard from any transgender inmates?
COX: Not anything specifically from an inmate or someone formerly incarcerated. I still reach out to CeCe McDonald. I just sent her a letter. She's been a huge inspiration to me with this character, and for life. She's just amazing.
MW: I saw you on HLN a few days ago and you mentioned you're single. Is that still the case?
COX: I'm still single.
MW: What is your life like off the set?
COX: I live in the middle of Manhattan in a teeny-tiny studio apartment. I live alone. I have great friends, though I've been so busy lately that I don't get to see them very much. My life in New York is I'm a person who's been trying to work and make a career for myself for a very long time as an artist and as an actor, and then have that be about something that's bigger than me. That's a lot of work.
When I am at home it's just about trying to relax and decompress. I don't plug into MSNBC. I try to read and stay up on what's going on with my community, try to connect. It's really simple. I try to get to the gym three or more times a week. It's been about a year since I've taken a dance class, because of my schedule, but I try to work out. Yeah, my home life is kinda boring, not a whole lot going on there. [Laughs.]