About a dozen people from the D.C. and Maryland LGBT community picketed outside the concert of the Mexican rock band Molotov Monday night as part of a protest against what they say are homophobic, anti-gay lyrics in the group's songs.
The picketers in front of the concert venue, The Fillmore Silver Spring, included members of Equality Maryland, the D.C.-based service center Casa Ruby and the Latino GLBT History Project. Others at the picket included Dr. Dana Beyer, executive director of Gender Rights Maryland, and David Moon of the Maryland Juice blog.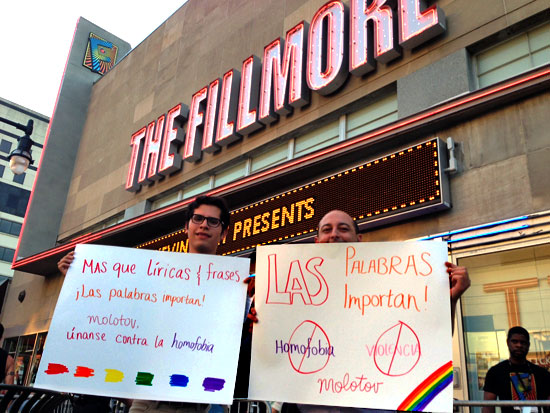 LGBT activists hold up signs protesting violent anti-gay lyrics of the Mexican rock band Molotov outside the band's concert Monday night at the Fillmore Silver Spring.
(Photo by John Riley)
The group held signs reading, "Words Matter/Las Palabras Importan," to protest lyrics that the band has used, particularly those in the song "Puto." The lyrics of that song include the phrase matarile al maricon, or "kill the faggot." But the band and its fans have defended the lyrics, noting that the song is primarily about political corruption and government officials who seek to infringe on people's freedoms. LGBT activists, on the other hand, say the term maricon is used in a negative context and that the "Puto" lyrics were allegedly screamed in June in Chile during an attack on a gay teen, Esteban Navarro, who had to have his leg amputated after being attacked by six people wielding machetes, knives and iron bars, according to Terra Online.
Following the attack on Navarro, Molotov released a statement saying the band did not intend for its lyrics to be used to incite violence against the LGBT community. The band also promised to stop using the word maricon on its U.S. tour.
The activists, however, counter that it's not enough to stop using the offensive lyrics in the United States. Throughout the demonstration, the LGBT picketers handed out fliers explaining to concertgoers that they were trying to encourage both the band and its fans to refrain from using homophobic or derogatory language.
"We want concertgoers to be aware that words matter," Evan Glass, a member of Equality Maryland's board of directors, told Metro Weekly. "Molotov has some violently homophobic lyrics in its songs, and these words are very hurtful to the LGBT community. … They have the right to perform here, but we just want to educate concertgoers about the words that the band uses, and we are urging the band to stop using these words wherever they perform."
Most concert attendees accepted and read the fliers, but many others expressed disagreement and defended the band's use of lyrics as a form of artistic expression and protest against government corruption.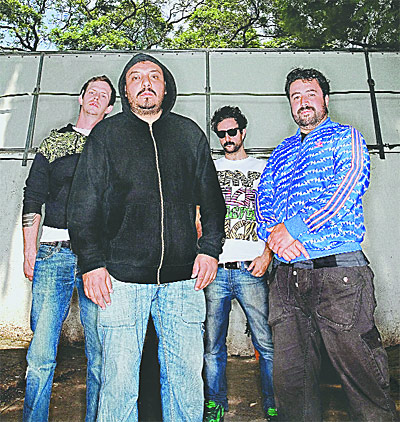 Molotov
(Photo by via Wikipedia)
"I respect their right to voice what they feel, but I think it's a little biased, because the song was written over 10 years ago, and our realities were different," Ellen Flores, a concertgoer and local blogger at The Incognito Latina, said of the protesters. "Matarile al maricon, yes, maricon does mean 'fag,' but that's one of the many definitions it has. For me, my frustration is there are such things as context clues, which they teach us when we learn English, that, when you read a word, you have to read what's around it to understand it. Just because it says puto and matarile al maricon doesn't mean 'fag' or hate crimes against the homosexual community."
"We have so many struggles, and, pardon my words, but there's so much bullshit going on in our countries, there's so much corruption, and that song is a way for us to vent," Flores continued. "It happens to be that maricon is how they said it, so be it. But it's not toward the gay community. It's toward the political parties and all the corruption."
Protester Travis Ballie said that even though some of the concertgoers vehemently disagreed with him, he found them "very respectful" and aware of the controversy over Molotov's lyrics. He said that some even told him they were allies of the LGBT community. Ballie's argument to several concertgoers that they deserved a band that would not use such homophobic lyrics in its songs.
Besides making the case for why the lyrics should be dropped or changed, Ballie also pushed back against those who would claim the picketers were trying to infringe upon Molotov's free-speech rights.
"I'll say that these lyrics make me feel unsafe in my own neighborhood," he said. "These lyrics are similar to many different names I've been called when walking down the street. Regardless of what they think those lyrics mean, I know what they mean when they are called out to me, whether I was in Mexico City for a trip or I was right here in D.C."
"Molotov has a constitutional right to be here and perform here," Ballie continued. "I have a constitutional right to question The Fillmore's judgment in booking this band. I have a right to question the wisdom of the band to use lyrics that are violently homophobic by many accounts. I'm here to speak out against the band, and they're still able to perform, but their use of the language doesn't insulate them from the reaction it gets, and it doesn't insulate them from the effect their lyrics have."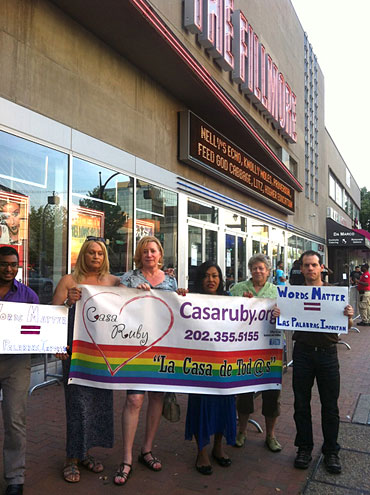 Dana Byer, Ruby Corado (center) and other LGBT activists protest Molotov at the Fillmore Silver Spring.
(Photo by John Riley)
Staff members of The Fillmore Silver Spring were very accommodating to the picketers, providing them bottles of water, though the venue avoided taking a side in the controversy.
"The Fillmore Silver Spring presents a wide variety of music, comedy and other entertainment for an audience that makes up a really diverse community," Stephanie Steele, the venue's market general manager, said in release from the venue. "The views expressed by all of the bands that we feature here, and all of the performers, are not necessarily shared by the venue or the staff."
Ruby Corado, who heads Casa Ruby, said the band should have dropped "Puto" from its set list altogether. She also noted that the band has not promised to stop using the controversial lyrics when it performs outside of the United States, characterizing its promise to refrain from using the lyrics as a "dishonest" public relations move.
"You don't say, 'Oh, we'll just hate you outside of the United States,"' Corado said of the band's approach to the controversy. "Because there, there are no rules, there are no laws [that protect LGBT people]. So, in the United States, we're not going to hate you. But we're going, with your money, to promote homophobia outside of your country."
Corado, a native Spanish speaker originally from El Salvador, pushed back against the claim that the lyrics are about frustrations over political corruption, noting that Molotov's pejoratives are used in a culture that has historically seen homosexuality as a disease. She added that at Casa Ruby, which works with many Latino LGBT people, several clients have experienced violence, harassment or discrimination from other Latinos, particularly newer immigrants who may hold anti-gay attitudes deemed acceptable in their home countries.
"Overall, the band is not homophobic," she said. "But you can't claim you're not at all when you promote lyrics that are. You may not personally practice it, but you promote it, and homophobia is partly about promotion."