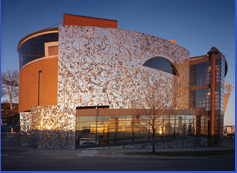 Maybe the weirdest, wildest museum you'll ever visit, Baltimore's American Visionary Art Museum opens its 19th original thematic yearlong exhibition this weekend. Human, Soul & Machine: The Coming Singularity! is what the quirky museum, focused on presenting self-taught artists, bills as its most complex subject yet, a playful examination of the serious impact of technology — in all its forms, from artificial intelligence to nanotechnology to Big Data — on our lives, as seen through the eyes of more than 40 artists, futurists and inventors in a hot-wired blend of art, science, humor and imagination.
Many of yesterday's sci-fi imaginings are quickly becoming today's reality. But whether that's good or bad is an open question. As the show, curated by AVAM founder and director Rebecca Alban Hoffberger, a "self-confessed luddite," puts it: "Two billion personal computers later, post-DNA sequencing, are we on the road to becoming a better, healthier, less warlike human race?"

The museum opens its doors tonight, Oct. 4, from 7 to 10 p.m., for a $20 Preview Party with light fare and cocktails, music and dancing. "Robo-chic" costumes and attire encouraged.
Exhibit opens Saturday, Oct. 5, at 10 a.m. and runs to August 2014. American Visionary Art Museum, 800 Key Highway, Baltimore. Tickets are $15.95 for general admission. Call 410-244-1900 or visit avam.org.