The funny thing about the Washington National Opera's production of Verdi's The Force of Destiny is that it actually works. Despite an awkward first scene, an unsympathetically trigger-happy hero and some unmitigated plot silliness, director Francesca Zambello's vibrantly dark re-imaging is riveting.
Set in a seething 21st century underworld, mood and place are hauntingly evoked in Peter J. Davison's urban wastelands in which the disenfranchised run their own economy, entertainment and even a rebellious army. There is poignancy to his unforgiving vistas: the Banksy-like graffiti, the extraordinary classical scene painted onto the corrugated exterior of an inner-city church, the glimpses of night and the coming dawn above shipping containers. They serve as silent commentary and context to the struggles of the characters within.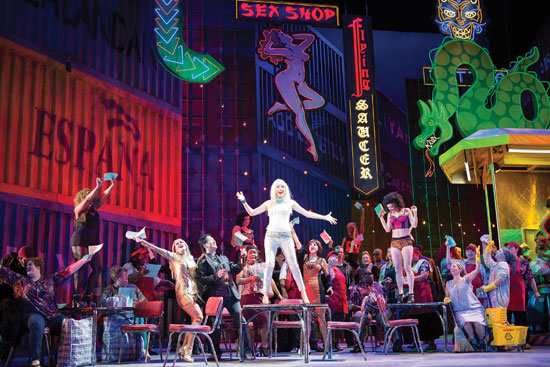 "Force of Destiny" Washington National Opera
(Photo by Scott Suchman)
And they go a long way, with their intense undertones, to overcoming the opera's rather "operatic" plot in which love collides fatally with family honor. They are, however, not yet in evidence in the slightly anachronistic opening scene in which Leonora is anxiously awaiting her lover Alvaro who is due to arrive at any moment to whisk her away for an elopement. In this production, the scene comes before the overture, rather like a prologue, and thus it stands apart.
But not altogether in a good way. For although the mood offers promising portent, once the pistol-wielding Alvaro arrives, the ensuing confrontation with Leonora's father, the disapproving Marquis of Calatrava, is cumbersomely choreographed. By the time Alvaro is making a hasty exit back out the window, the general impression is that he has put Leonora in a terrible situation and then left her to deal with it. Not exactly the stuff of heroes, especially operatic ones.
Thus, it's an odd start. And although the prologue idea does no harm to the production, the bungled confrontation does. Alvaro just never recovers from it. Indeed, everything that comes later – his claim that he has been searching for her for years and that he still loves her – just doesn't ring true. Perhaps the cure would have been an Alvaro who expressed a true agony as he parted from his heartbroken lover, but Giancarlo Monsalve wasn't delivering. But more on this later.
Still, what the first scene can't convey of the desperate emotion and sense of tragic destiny, the magnificent musical interlude of the re-positioned overture does. It also happens to be the first, real taste of the fabulous conductor Xian Zhang, who has the WNO orchestra delivering this Verdi with an exciting mix of nuance, power and precision.
When we next rejoin the action, Leonora's brother Carlos is hunting the city for his sister and Alvaro, bent on revenge (though matters are complicated by the fact that he does not know what Alvaro looks like). Taking refuge in an urban cloister, Leonora becomes a reclusive penitent while, thrown together as soldiers in the rebel army, Carlos and Alvaro, both under aliases, become fast friends. Inevitably Carlos learns his real identity and Alvaro flees to the same cloister as Leonora, where he serves for years without knowing she is there in seclusion. When Carlos finally catches up with them, a final confrontation ensues in which all three destinies are at last met, though of course not in a good way.
Here, as with many operatic tragedies, there is the challenge of overcoming some silliness of plot. Unfortunately, Carlos's abrupt switch from loyal pal to murderous avenger is one such moment and there just isn't enough to carry it convincingly. This is not on Mark Delavan, who gives his Carlos an unwavering intensity and a warmly bold baritone; it's just a foible of a very condensed plot.
Similarly undermined and less forgivable, however, is Carlos's final confrontation with Alvaro in which the younger man vacillates back and forth between defending his honor and keeping to the priesthood's peaceful creed. Though this is another tough sell, Giancarlo Monsalve could dig deeper with his Alvaro and lessen the absurdity. It all goes back to the opening scene: We need to see a man deeply in love and, later, a man deeply in spiritual conflict.
In terms of singing, Monsalve's tenor is much like his acting. There is some pleasingly bright boldness, if not quite enough nuance or enunciation. It's bold and gutsy, but where's the heart, the connection? In his duet with Carlos, he works in parallel where it needs to be integral.
Yet even if some scenes evoke a few titters, they do little real damage to the hugely atmospheric whole and, more especially, the intensely passionate performance of Adina Aaron as Leonora. A vibrant, expressive actor, Aaron gives her despairing woman palpable personality and convincing despair. She sings with a fulsome richness, but, when called for, an angelic delicacy. If not every note is perfect and her higher notes are at times a tad thin, she is a soprano to watch.
The Force of Destiny



To Oct. 26
Kennedy Center
Opera House
$25 to $300
202-234-7174
www.kennedy-center.org
Impressively self-possessed and delivering a firm and commanding bass, a dishy Enrico Iori makes for a convincing Father Guardiano, leader of the cloister, and leaves one wondering if Leonora might relieve him of his vows in some alternate operatic universe. As fortune-teller to the rabble Preziosilla, mezzo-soprano Ketevan Kemoklidze offers a nicely drawn vamp and some thrillingly dexterous, if not completely perfect, singing. Valeriano Lanchas brings a bit of humor and some rich tone to his Brother Melitone, while Domingo-Cafritz Young Artist Soloman Howard positively shines as Alcade of Hornachuelos, singing his bar-owner with gorgeous tone and precision while owning the stage.
Certainly flawed, this is nevertheless a richly atmospheric, accessible production ideal for newcomers or the easily operatically bored. The more seasoned will just have to leave a few expectations at the door.