Actor and MSNBC talk show host Alec Baldwin spoke with Gothamist about recent events in which he allegedly used a gay slur against paparazi.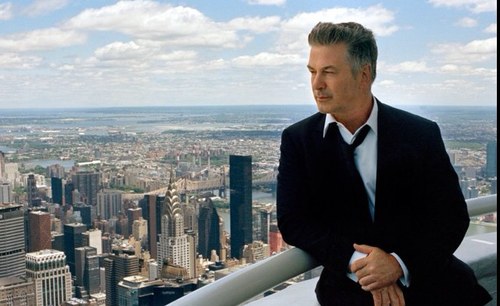 In a video posted to TMZ on Nov. 14, he was shown in an agitated state, telling a photographer to get away from his wife and daughter. Circling around his car, Baldwin threatened a videographer to do the same. Then as he got into the car, Baldwin muttered something. It was reported that he said "cocksucking faggot" or "fag," however the audio was not 100 percent clear.
Baldwin's direct responses to the controversy have been removed from his Twitter feed. But reports say he claimed that he had muttered "cocksucking fathead." Screencaps show him tweeting, "Anti-gay slurs are wrong. They not only offend, but threaten hard fought tolerance of LGBT rights." He later added:
"Rich Ferraro from @glaad informs me that c'sucker is an anti-gay epithet. In which case I apologize and will retire it from my vocabulary."
In a panel discussion on Anderson Cooper's CNN talk show, blogger Andrew Sullivan said:
"When you use the term 'c-sucking fag' to another human being in rage and anger, to put that person down, you are thinking of the worst thing that you can say to that person, to demean them, and to debase them, in public in front of them. And that is, I'm afraid, a textbook case of being homophobic…. I just don't think you can say that in public, and then claim that you are pro-gay or you're a big, liberal progressive."
Cooper brought up a previous incident in which Baldwin called a reporter "a toxic little queen." Cooper said Baldwin was free to use "anti-gay" language if he wanted, "but then don't lie about it afterward, and claim you didn't know this was an anti-gay slur."
Peter Beinart of Daily Beast likened the history of homophobia to anti-semitism. He suggested that, because "homophobia was an acceptable, mainstream part of American culture" in previous decades, that he and Baldwin carry an ugliness inside despite years of enlightenment and support for gay rights.
Dan Savage appeared on Real Time with Bill Maher, and echoed that thought:
"He comes from a time and a culture where homophobic bigotry was much more common and much more universal than it is now. And he's overcome it. But when he gets into a conflict with somebody, it's right there. The homophobia is right there. It's the worst thing that you could call somebody when he was 15…. But you have to take that into consideration. You have to weigh that he's for gay marriage, he's for the full civil equality of LGBT people."
A formal statement was issued at MSNBC, in which Baldwin wrote:
"I did not intend to hurt or offend anyone with my choice of words, but clearly I have – and for that I am deeply sorry. Words are important. I understand that, and will choose mine with great care going forward. What I said and did this week, as I was trying to protect my family, was offensive and unacceptable. Behavior like this undermines hard-fought rights that I vigorously support."
The network still cancelled his fledgling show. Baldwin turned to NYC's Gothamist yesterday. In printed portions of his interview, Baldwin is quoted as saying:
"I dispute half the comment I made… 'faggot' is not the word that came out of my mouth. That I know. But you've got the fundamentalist wing of gay advocacy—Rich Ferraro and Andrew Sullivan—they're out there, they've got you…. They killed my show. And I have to take some responsibility for that myself."