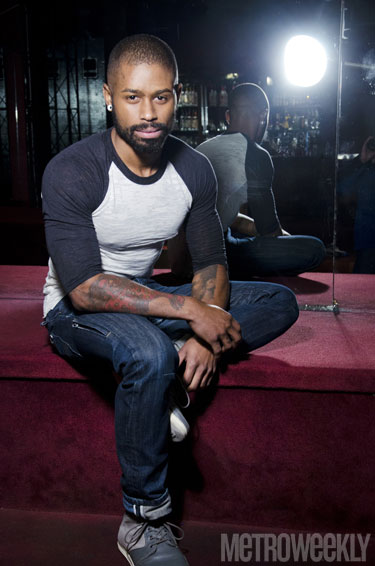 Coverboy: Jared
(Photo by Julian Vankim)
"It was a very weird feeling," he says. "It was a mix of 'Everything is right with the world' and kind of overwhelming — but in a good way."
Jared still plays soccer for recreational leagues in Baltimore and D.C. to keep his competitive edge. But he has also gotten into aerial silks, an athletic activity that fuses artistic expression with physical exertion requiring tremendous amounts of upper body strength, where performers hoist themselves into the air via two long cables of silk before completing acrobatic moves.
"There's a proper way, once you've climbed to a certain height, you can hold yourself up," he says. "There's a way you can wrap your foot in the silk, and a basic technique is to fall into a split once both your feet are wrapped independently."
"It' a lot like origami, because it's a lot of remembering different wrapping techniques for your hands and feet," he adds.
A graphic designer who one day hopes to become an art director for a fashion house or magazine, Jared devours fashion magazines and books on graphic design and typography. He recently quit his full-time job to focus more on his art, and plans to soon move to New York to break into the fashion and design world.