LGBT leaders in the United States praised Nelson Mandela's contributions toward advancing equality following the death of the former South African president Thursday.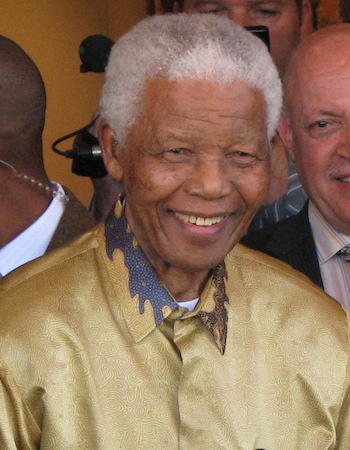 Mandela, who died at the age of 95, was South Africa's first democratically elected and first black president, serving from 1994 to 1999. Mandela spent 27 years in prison for his work against apartheid before his release in 1990.
"Nelson Mandela tore down oppression, united a rainbow nation, and always walked arm-in-arm with his LGBT brothers and sisters—and with all people—toward freedom," said Human Rights Campaign President Chad Griffin in a statement. "Though every man, woman and child who seeks justice around the world mourns this loss, his vision of an equal future lives on undimmed."
In 1994 while Mandela was president, Mandela appointed an HIV-postive gay man, Edwin Cameron, to the nation's highest court. That same year, South Africa became the first nation in the world to constitutionally prohibit discrimination on the basis of sexual orientation.
As noted by Kevin Cathcart, executive director of Lambda Legal, the protections afforded to gay South Africans in their constitution are a degree of legal protection that LGBT Americans still do not have.
"Every one of us who continues the fight for equality and civil rights in our own communities labors in the shadows of this man who withstood imprisonment as a consequence of his courageous leadership and grew only stronger, more resolute and more dignified," Cathcart said in a statement.
Mandela was also a supporter of marriage equality, and, in 2006, South Africa became the first country in Africa and fifth in the world to legalize same-sex marriage.
"Nelson Mandela was an inspiration to the millions of people who yearn for freedom across the world," said Rea Carey, executive director of the National Gay and Lesbian Task Force, in a statement. "With great personal sacrifice, he fought Apartheid and state-sanctioned racism. His principled approach, his willingness to reach out to former enemies, led to the introduction of multi-party democracy and real change in South Africa."
According to Carey, Mandela's legacy is one of hope — "hope that people can achieve peace and freedom in a world with more than its fair share of conflict."
Upon news of Nelson's death, current and former heads of state around the globe paid tribute to Mandela. Speaking to reporters in the White House briefing room, President Barack Obama said he drew personal inspiration from Mandela and that he was "a man who took history in his hands, and bent the arc of the moral universe toward justice."
"We will not likely see the likes of Nelson Mandela again," Obama said. "So it falls to us as best we can to forward the example that he set: to make decisions guided not by hate, but by love; to never discount the difference that one person can make; to strive for a future that is worthy of his sacrifice."
[Photo: Nelson Mandela, via Wikimedia Commons.]