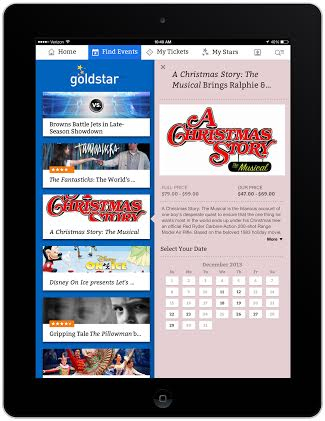 There's still time to get that last minute gift or stocking stuffer. Goldstar, "the world's biggest ticket booth," recently introduced a gifting feature that makes it easy to offer someone the gift of live entertainment (and we're not talking about the kind where a half-naked dancing boy pops out of the cake, though that would certainly liven up a dull holiday dinner, come to think of it).
What's unique about Goldstar's approach is that rather than lock in a specific date for a specific event, the service allows the ticket buyer to select a particular show and then gives a "best guess" as to when the recipient might be able to attend. It's like magic! Only it's not magic! But the next part really is magical! The recipient then has the opportunity to change that date or even pick another event. So if you give someone the gift of opera and they prefer to see Beyonce, they can just say no to the La Boheme and yes to pop's current golden girl. Goldstar also provides three ways to deliver the gift: email, print at home or by mail, but really who does anything by mail anymore, apart from your Aunt Tillie?
Now for the really good part. Goldstar is offering a gift certificate at a 20 percent discount when purchased online by December 24. Which is tomorrow (or today if you're reading this on December 24). So hurry.
Membership in Goldstar is free. And iOS users can use a free app to make purchases. So go ahead, stuff those stockings for the next 24 hours. It's what makes the holidays extra special.